MATERIALS AND PROCESSES FOR MIXED SIGNAL DESIGN
Mission:
To explore new processes, materials and circuit design concepts for integration into the analog and mixed signal design field. The goal of this integration is the achievement of improved and/or unique functionality.
Examples:
• Integrated battery technology using high-capacity nano-powder based thin-film batteries that may be directly incorporated into an IC chip.
• Battery technology for flexible electronics
• Manipulation of GaN/AlGaN phases for multi-color UV sensor array development
• Superconducting bolometer array development
• Energy harvesting of ambient infrared radiation utilizing metal-insulator-metal rectifying diodes with plasmonic field enhancement
• High-resolution e-beam patterning
• Design methodologies for operating bulk and SOI MOS circuits at cryogenic temperatures
• Exploration of quaternary alloys for latch-resistors to mitigate single-event upset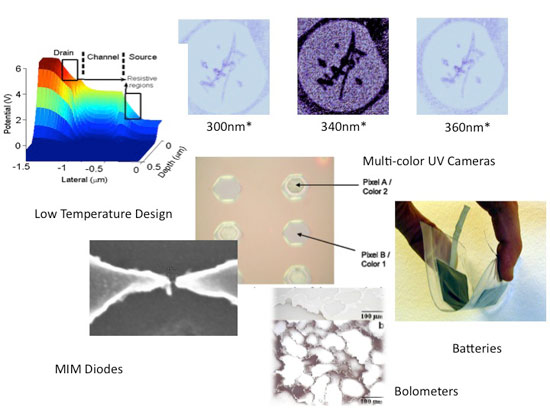 Team Members:
Professor Martin Peckerar, Team leader
Graduate Students:
Scott Bauman: Hybrid System Design
Kwangsik Choi: MIM rectenna project
Mahsa Dornajafi: Nano-particle thin film batteries
Filiz Yesilkoy: Advanced E-beam Technology, MIM Diodes, IR energy harvesting
Wei Zhou: Battery control electronics, Radiation-hard by design electronics
Undergraduate Interns:
Vincent De Chacus: Battery fabrication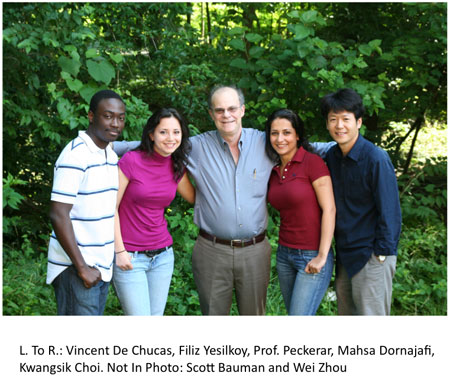 Group Alumni:
Masters Students
Harsh Kapoor, June 1984, "A Portable Alignment Tool For X-ray Lithographic Process Development"
Patricia Kaufman, August 1988, "The Effects of Contrast Enhancement Material on Optical Lithography"
Robin Hershey, Dec. 1988, MS, "Characterization of a Novel Deep-UV Photolithography Process"
Chris Mack, June 1989 "A Lumped Parameter Model For Photolithography" Current: This work became an integral part of the PROLITH program which Mr. Mack now markets through his own company , PROLITH(acquired by KLA), based in Austin Tx).
Charles Wesley Tipton IV, June 1991 "SPICE Simulation of thin-Film Fully Depleted SOI IGFETs Using the BSIM2 Model" Current: Research Engineer, Army Research Laboratory
Mark Jacunski, Dec. 1991, "A Comparison of the Radiation Characteristics of LOCOS, Rox and Moat Field Isolation" Current: Product Engineer, IBM Microelectronics, Burlington, VT
Steven Witczak, June 1993, "Measurement Techniques to Extract Semiconductor-Insulator Interface Trap Densities and Their Application To LPCVD Si-Rich SiNx-Si Structures"
Kenneth Grossman, June 1993, "Reliability of Cold-Cathode Emitters" Current: Engineering Staff, Johns Hopkins Applied Physics Laboratory
Eric Young, June 1998, "Linear Program for Determining the Optimal Dose Modulation To Correct Proximity Effects in Electron Beam Lithography."
Troy Chesler, " May 2004, "Design of Per-Pixel CMOS Readout Circuitry for Continuous Bias Uncooled Bolometric LWIR Focal Plane Arrays."
Keir Lauritzen, May 2005, "A Novel Compressing Analog To Digital Converter." Current: Engineering Staff, Johns Hopkins Applied Physics Laboratory
Jeffrey Allnutt, May 2007, "Testing and Characterization of Silicon Devices Operating at Cryogenic Temperatures." Current: Engineering staff, Northrop Grumman Corporation, Baltimore, MD.
James Weinke. May 2007, "The Impact of Interface States on Sub-Threshold Leakage and Power Management in CMOS Devices and Circuits" Current: Engineering staff, Northrop Grumman Corporation, Baltimore, MD.
Hsin-Che Chiang, September 2007, "A PLL Based Frequency Synthesizer in 0.13 um SiGe BiCMOS for MB-OFDM UWB Systems," Current: Analog design engineer at Real Communications, Tiawan.
Filiz Yeshilkoy May 2010, "Implementation of E-Beam Proximity Effect Correction Using Linear Programming Techniques for the Fabrication of Asymmetric Bow-Tie Antennas" Current: Ph.D. Program, Electrical Engineering, University of Maryland
PhD Students:
Esau Ndrito Kanyogoro, June 2010 "New Material For Eliminating Linear Energy Transfer Sensitivities In Deeply-Scaled Nanometer Node Cmos Sram Cell Technologies," Current: Engineer, Naval Research Laboratory, Washington, DC.
Keir Lauritzen, June 2009 "Correlation Of Signals, Noise, And Harmonics In Parallel Analog-To-digital Converter Arrays" Current: Engineering Staff, Johns Hopkins Applied Physics Laboratory
Alfred Haas, December 2008 "Analog VLSI Circuits For Biosensors, Neural Signal Processing And Prosthetics" Current: Postdoctoral Researcher, University of Arizona.
Yves Ngu, June 2008 "Advance Materials And Processes For Integrated MicrocircuitTechnology" Current: Senior Engineer, IBM Microelectronics, Burlington, VT.
Seokjin Kim, June 2008 " High-Speed Analog-to-Digital Converters for Modern Satellite Receivers" Current: H/W Dev. Engineer, Modules – ASIC Infinera Corp., Sunnyvale, CA.
Po-Hsin Chen, December 2007, "Analysis and Design of High-Speed A/DConverters in SiGe Technology"
Sanaz Adl, June 2007 "Low Noise Preamplifier/Amplifier Chain for High Capacitance Sensors" Current: Engineer, Hughes Aircraft Research Laboratory, Malibu CA.
Hsin-Hua He, April 2007 (Co-Advised with R. Newcomb), "Low Phase Noise CMOS PLL Frequency Synthesizer Analysis and Design"
Hu Huang, May 2007, "High Performance FPAA Design for Hierarchical Implementation of Analog and Mixed-Signal Systems" Scientist, Senior Staff IC Design at Broadcom, Irvine, CA
Ji Luo, December 2005, "Circuit Design and Routing for Field Programmable Analog Arrays," (Co-Advised with Joseph Bernstein) Current: High Speed Analog/Mixed-Signal IC Design at LSI, Milpitas, CA.
Andrew D. Culhane, May 1994, "Advanced Co-processors for Mathematical Transformations with Applications to Diffraction Analysis" Current: Laboratory for Physical Sciences, College Park, MD
Steven Chang, December 1994, "A VLSI Approach to a Neural Net Tomographic Imaging Algorithm" DoD, Ft. Meade, MD
David Ma, August 1991, "Double Crystal Topography Characterization of Mechanical Stress Related Effects in Silicon Metal-Oxide-Semiconductor Field Effect Transistors"
Rajat Rakhit, December 1988, "Two Dimensional Modeling of Hot Carrier Effects in MOS Devices"
Pradeep Dutta, December 1988, "Nondestructive Characterization of Oxygen-Ion-Implanted Silicon-on-Insulator Using Research Grade Spectroscopic Ellipsometry" Manager, Cadence Corporation, Banglore, India
Contact Information
Martin Peckerar
Dept. of Electrical Engineering
1321 A.V. Williams Bldg.
University of Maryland
College Park, MD 20742
Phone: (301) 405 - 7187
Email: peckerar@umd.edu
Recent Publications