Joseph Turnage
Senior VP, Constellation Energy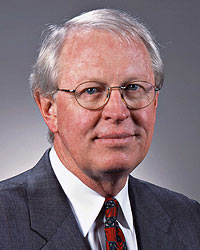 Joe Turnage is a Senior Vice President of Constellation Energy Nuclear Group (CENG) and Senior Vice President, Strategy of UniStar Nuclear Energy. He is currently focused on successfully deploying a fleet of at least four U.S. EPR advanced nuclear power plants in North America. Supporting this activity is UniStar Nuclear Energy (UNE), a joint venture between Constellation Energy and Electricité de France. UNE is teamed with AREVA for nuclear steam system supply and with Bechtel Power Corporation for the construction of the UNE fleet.
Prior to joining Constellation Energy, Dr. Turnage was Senior Vice President and Chief Technology Officer for Pacific Gas & Electric Company's unregulated subsidiary, PG&E National Energy Group. Prior to that, he was President of Tenera Energy LLC, a consulting firm for the power industry.
As a senior executive in competitive power generation companies and as the founder of two successful consulting companies, Dr. Turnage brings to Constellation over 30 years of experience working with companies in the electric power industry. In this work, Dr. Turnage has been actively involved with almost every aspect of the business; with managing asset development and acquisition; with managing the profit and loss of a portfolio of competitive generating plants; with product and service development and marketing; with managing shared service organizations (including plant engineering, nuclear engineering and reactor safety analysis, operations and maintenance, procurement, safety, information technology, and environmental engineering); with implementing new asset management systems; with managing large construction projects; and with executive-level assessments of organizational performance.
Dr. Turnage holds a Ph.D. degree in nuclear engineering from the Massachusetts Institute of Technology (MIT), a M.S. degree in nuclear engineering from MIT, and a BS in nuclear engineering from Mississippi State University.