Travel Information
The University of Maryland in College Park is located just 4 miles outside of Washington DC, and less than 10 miles away from the IEDM. It is inside of the Capital beltway, accessible by the Washington DC Metro System (green line), and can be reached from all three of the Washington and Baltimore airports.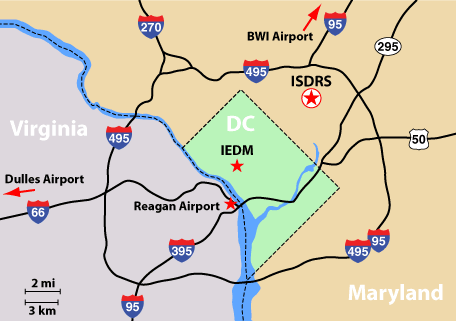 The Adele H. Stamp Student Union is located at the intersection of Campus Dr and Union Dr on the University of Maryland College Park campus. In addition to conference and meeting facilities, it offers dining, shopping, and parking.
Parking
Parking is available in the Union Lane Garage located next to the Stamp Student Union at a rate of $2.00 per hour with a maximum of $10.00 per day.
Airport Information
The University of Maryland-College Park Campus is served by three major airports.
Driving Directions to the University of Maryland
Metro Directions to the University of Maryland
The University of Maryland can be reached from the College Park Metro station on the Green Line. The University operates a shuttle service (Shuttle UM) that runs between the Metro station and the Adele Stamp Student Union.
Washington Attractions
Washington DC is not only the nation's capitol and home of the U.S. government, but also one of the most lively and culturally diverse cities in the country. Scores of museums, memorials, performance centers and galleries make it one of the most visited places in the country. The following links describe a few of the local attractions.