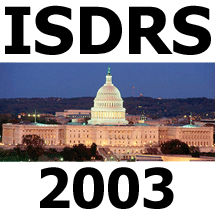 December 10-12, 2003
Holiday Inn Georgetown
2101 Wisconsin Ave. NW
Washington, D.C. 20007
2003 International Semiconductor Device Research Symposium
Hotel Information
A limitted number of rooms are available at a discounted rate of $119 (single) and $129 (double occupancy) at the Holiday Inn Georgetown, where the conference will be held. Limitted free parking is also available at the hotel. To make reservations, please contact the Holiday Inn at 202-338-4600. Be sure to mention that you will be attending ISDRS 2003 when making your reservation.
Holiday Inn Georgetown
2101 Wisconsin Avenue NW
Washington, D.C. 20007
ph: 202-338-4600
fax: 202-338-4458

Directions
The hotel provides a comprehensive set of directions from all of the major airports, highways, train stations and subway stations.