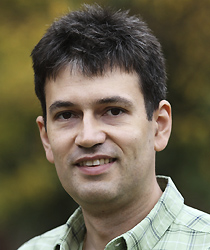 Dumitraș, Tudor
Associate Professor

Electrical and Computer Engineering
Maryland Cybersecurity Center
UMIACS

5228 Iribe Center

EDUCATION
Ph.D. in Electrical and Computer Engineering from Carnegie Mellon University
M.S. in Electrical and Computer Engineering from Carnegie Mellon University
Diplôme d'Ingénieur in Computer Science from Ecole Polytechnique, Paris, France
B.S. in Computer Science from "Politechnica" University, Bucharest, Romania
BACKGROUND
Tudor Dumitraș is an assistant professor in the Department of Electrical and Computer Engineering with a joint appointment in the University of Maryland Institute for Advanced Computer Studies. He is also a core faculty member in the Maryland Cybersecurity Center. 
Dumitraș's research focuses on Big Data approaches to problems in system security and dependability.
In his previous role at Symantec Research Labs he built the Worldwide Intelligence Network Environment (WINE)—a platform for experimenting with Big Data techniques. Dumitraș received an honorable mention in the NSA competition for the Best Scientific Cybersecurity Paper of 2012. He also received the 2011 A. G. Jordan Award from the ECE Department at Carnegie Mellon University, the 2009 John Vlissides Award from ACM SIGPLAN, and the Best Paper Award at ASP-DAC'03. 
Dumitraș received his doctorate in electrical and computer engineering from Carnegie Mellon University.
HONORS AND AWARDS
Best Scientific Cybersecurity Paper, Honorable Mention, NSA (2013)
A.G. Jordan Award, Carnegie Mellon ECE Department (for outstanding Ph.D. thesis and service) (2011)
John Vlissides Award, ACM SIGPLAN (for significant promise in applied software research) (2009)
1stPlace, ACM Student Research Competition, OOPSLA'09 2009
Research Grant, Amazon Web Services (for reducing upgrade failures via upgrades-as-a-service) (2009)
Graduate Student Service Award, Carnegie Mellon University (2006)
Best Paper Award, Asia and South Pacific Design Automation Conference (2003)
Excellence scholarship, French government's EIFFEL program (1999–2001)
System security and dependability
Big Data techniques for analyzing the behavior of real-world systems
Scalable infrastructures for data storage and analysis
E.Papalexakis, T. Dumitraș,D.H. Chau,A. Prakash    and C. Faloutsos.    'Spatio-temporal Mining    of Software Adoption & Penetration.' In    IEEE/ACM International Conference on Advances in Social Networks Analysis and Mining (ASONAM'13), Niagara Falls, CA, Aug 2013
L.Bilge and T. Dumitraş.'Before    We Knew It: An Empirical Study of Zero-Day Attacks in the Real World.' In    USENIX ACM Conference on Computer and Communications Security (CCS'12), Raleigh,  NC, Oct  2012.(19% acceptance    rate)
T.Dumitraș and P.Narasimhan.'Why Do Upgrades Fail And What Can We Do    About It? Toward Dependable, Online Upgrades in Enterprise Systems.'In    ACM/IFIP/USENIX     Conference on Middleware (Middleware'09), Urbana-Champaign,IL,Nov–Dec 2009.    
 
Institute of Electrical and Electronics Engineers (IEEE)
Association for Computing Machinery (ACM)