ECE Undergraduates Win New Venture Challenge Competition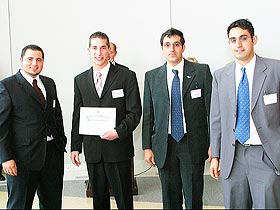 Seven ECE students competed as finalists and three students won the undergraduate prize in the fifth annual University of Maryland
New Venture Challenge
business plan competition on May 6, 2005.
In the undergraduate category, Armin Kiany (B.S. in Electrical Engineering, 2005), Payam Golriz (B.S. in Electrical Engineering, 2005), and Ramtin Kiany (B.S. in Electrical Engineering, 2005), along with business major Josh Norris, and Mohsen Attarpour, won the New Venture Challenge prize for the business plan put together by their team, "ARTKIA." ARTKIA's plan is to develop a complete PDA-based solution for restaurant management. The team was awarded $12,500 to put their venture into motion.
Also a finalist in the undergraduate category was David Johnson, a UMCP Computer Engineering major, whose team "Avere" is developing a software system to help consumers live healthier lives by offering them detailed information about their food purchases.
In the graduate category, Kun Lin (B.S. in Computer Engineering and Finance, May 2005), Ogbonia Orji (B.S. in Electrical Engineering and Management Science/Stats, May 2005), and Josef Yeager (B.S. in Computer Engineering, May 2005) were runners-up for the plan submitted by their team, "SecureGo." SecureGo is developing a Universal Serial Bus (USB)-based device that provides secure online shopping and online banking capabilities. SecureGo was awarded $5,000 by New Venture Challenge.
The University of Maryland's New Venture Challenge was established to find new venture ideas and build successful businesses, as well as to provide education and networking opportunities for students. Winners receive cash prizes to help establish their businesses. The competition is open campus-wide each year to University of Maryland undergraduate and graduate students, and is sponsored by the Maryland Technology Enterprise Institute (MTECH) and Hinman Campus Entrepreneurship Opportunities (CEOs) Program.
Published May 9, 2005