Engineering Ranked Among Top Three In-Demand Bachelor's Degrees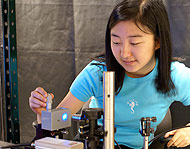 In a spring update to their 2011 Job Outlook report, the National Association of Colleges and Employers (NACE) named Engineering as the third most sought-after bachelor's degree. The study also mentioned that Electrical Engineering students are poised to find the greatest success among engineers in the job market.

Topped only by Accounting and Finance degrees, Engineering degrees are among the most marketable for college graduates. The United States Department of Labor predicts an 11 percent rise in engineering jobs through 2018. Employers are also indicating a desire to hire 19.3 percent more graduates in 2010-2011 than they did in 2009-2010.

On the University of Maryland College Park campus, Electrical and Computer Engineering (ECE) students are the most requested majors for employers conducting campus interviews, reflecting the state of Maryland's 44 percent projected shortage of engineering graduates. Each year, the annual ECE Career Fair is filled to capacity, attracting 40 employers from across the nation, and drawing 750 student registrations. For more information, visit www.ece.umd.edu/fair.
Published June 21, 2011