Hacking Tomorrow's Tech World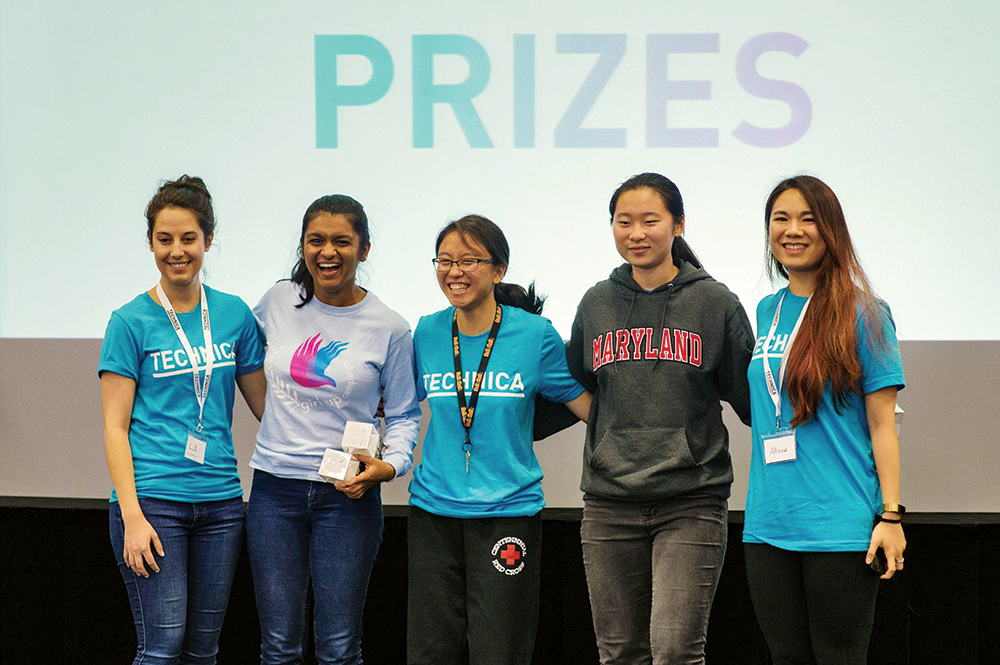 Bioengineering student Akshaya Ganesh believes tech is the future, and biotech is her future. However, with the technology field being male-dominated, "it's easy to feel intimidated," she says. That's why Ganesh and the other organizers of Technica, the University of Maryland's student-run all-women hackathon, are sounding the call for a more egalitarian tech world.
In its third year, Technica drew women of all ages from around the U.S. and Canada to UMD's campus. As with traditional hackathons, Technica attendees compete to win prizes for their innovative hacks—but they also attend workshops for coders at all levels, network with sponsors, and hear from female tech influencers. Facebook's Chief Operating Officer Sheryl Sandberg recorded a welcome video exclusively for the 2017 event.
Technica was founded at UMD in 2015 to provide support for stronger gender diversification in tech. An opportunity for women to work together, ask questions freely, and create something unique, Technica became the largest all-women hackathon in the world in 2016 with more than 825 participants.
Electrical engineering student Trinish Chatterjee, one of many male volunteers, was drawn to the hackathon by the inclusivity of its atmosphere. Serving on the sponsorship team for Technica 2017, he connected with sponsors and coordinated prizes for winning hacks. The hackers' showcase and prizes are important elements of the event, but the focus is less on competition and more on addressing challenges within a supportive community. "It's more than your typical hackathon," says Chatterjee. Beginner participants get acclimated to tech; the more experienced gain new skills. But it's not all about tech know-how. Participants and organizers alike learn lessons related to inclusion and community. "I feel more confident in my 'soft skills,' having been exposed to new people and ideas," he says.
Events like Technica transform the student experience by turning ideas into impact and preparing students to be leaders. "This kind of competition improves its participants and the tech field itself," says Chatterjee, who looks forward to volunteering again for Technica 2018.
So does Ganesh, who feels it's important to her engineering education and the education of her peers—both women and men—to see more women in the room. Technica is more than an extracurricular. "It provides a safe place to pursue your passion," she says.
Read more about student competitions at the Clark School in our Spring 2018 issue of Engineering at Maryland magazine.
Published April 17, 2018