Liu Selected to Attend National Academies' Keck Futures Conference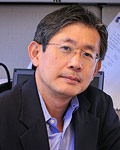 Professor
K. J. Ray Liu
has been selected to attend the 8th Annual National Academies Keck Futures Initiative (NAKFI) conference, "
Seeing the Future with Imaging Science
."
NAKFI is a 15-year effort of the National Academy of Sciences NAS), the National Academy of Engineering (NAE), and the Institute of Medicine to catalyze interdisciplinary inquiry and to enhance communication among researchers, funding organizations, universities, and the general public. The objective is to support the climate for conducting interdisciplinary research, and to break down related institutional and systemic barriers. NAKFI works towards these objectives by harnessing the intellectual horsepower of approximately 150 individuals from diverse backgrounds who apply to attend its annual "think-tank" style conference; and by awarding $1 million in seed grants – on a competitive basis – to conference participants to enable further pursuit of bold, new ideas and connections stimulated by the conference.
The selection process for conference attendees is highly selective. The group of invitees is intentionally diverse, including researchers from science, engineering, medicine, as well as representatives from public and private funding organizations, university and government leadership, and science journals. These individuals will form approximately ten to twelve interdisciplinary research teams, and will spend the majority of the conference developing a possible scientific plan to solve an outstanding challenge posed to the group. The goals of the research teams are to spur new thinking, to have people from different disciplines interact, and to forge new scientific contacts across disciplines.
"Seeing the Future with Imaging Science" will explore the potential for Imaging Science research to have a major impact on global issues, including climate change, security, and medical advances.
For more information about the conference, visit NAFKI's "Seeing the Future with Imaging Science" website.
Published June 16, 2010