O'Shea Named Distinguished Scholar-Teacher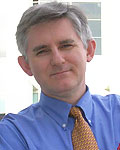 Professor
Patrick O'Shea
, Chairman of the Department of Electrical and Computer Engineering (
ECE
), has been selected as a 2009-2010 Distinguished Scholar-Teacher by the University of Maryland. The Distinguished Scholar-Teacher program recognizes faculty members who have demonstrated outstanding scholarly achievement along with equally outstanding accomplishments as teachers.
Each year, nominees for the award are selected by their peers, and between five to seven winners are chosen by a panel of former Distinguished Scholar-Teachers. Winners receive a $5,000 cash award to support instructional and scholarly activities, and make a public presentation in the fall semester on a topic of scholarly interest.
For more information about the Distinguished Scholar-Teacher Award program, as well as a list of past winners, please visit: http://www.faculty.umd.edu/FacAwards/dstlist.html.
In addition to serving as ECE Chair, O'Shea is the Director of the University of Maryland Electron Ring and Free Electron Laser projects, and is leading a multi-disciplinary research team to develop charged particle beam technologies. He will also serve as executive director of the new Center for Applied Electromagnetics.
O'Shea is a fellow of the American Physical Society (APS), the American Association for the Advancement of Science (AAAS), and the Institute for Electrical and Electronic Engineers (IEEE). He is the former Director of the Institute for Research in Electronics and Applied Physics (IREAP).
Published December 23, 2008