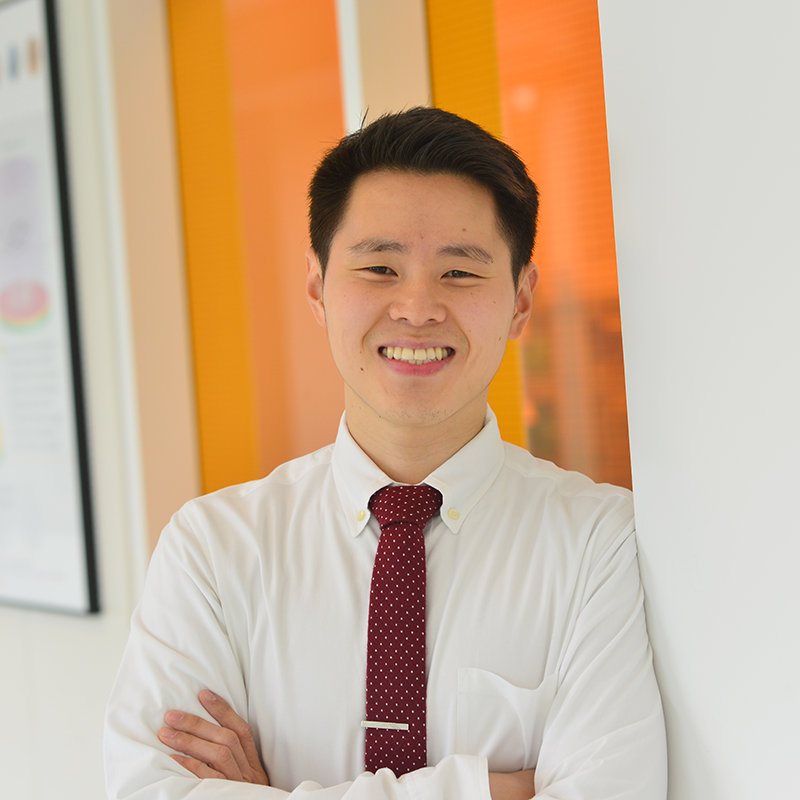 As my career progresses, I hope to be able to contribute to scholarship funds so that I can help young students like I was helped.
UMD degree: B.S. '14, electrical engineering
Currently: UMD Ph.D. student, computer engineering
When it was time for Maryland native Danny Kim to start looking at colleges, he knew that affordability was going to be an issue. His parents, who immigrated to the United States from Korea before Kim was born, were already financially helping his older sister study criminology and psychology at the University of Maryland, and there wasn't much to spare in the college savings fund.
Thanks to Kim's A. James Clark Scholarship, he was not only able to attend the large, well-respected school that had been one of his top choices all along, but also alleviate some of the financial burden for himself and his parents.
"What my scholarship really gave me was the gift of time," says Kim. "Because I didn't have to work to support myself, I was able to do things that were important for my education, like focus on my studies and get hands-on experience."
While an undergraduate at the A. James Clark School of Engineering, Kim interned as an electrical engineer for Key Tech, which uses novel sensors, microfluidics, optics, and robotics to develop medical, industrial, and consumer products. He developed and tested firmware for a medical device, as well as collaborated with multiple teams to design efficient, custom solutions to issues that arose during project development. He also was a Teaching Assistant (TA) as an undergraduate for first-year course Introduction to C Programming.
Currently, Kim is a Ph.D. student at UMD researching cybersecurity, focusing on using advanced program analytics to understand how malicious software, or "malware," behaves so it can be more easily detected and halted before it causes damage. He also continues his TA duties, this time on upper level engineering electives such as Computer Organization and Design.
Kim was also recently selected as a Metropolitan Washington Chapter of Achievement Reward for College Scientists (MWC/ARCS) Lockheed Martin Scholar for the third year in a row.
After graduation in spring 2018, Kim hopes to work on the applied and research side in industry, continuing to ask the questions about cybersecurity to which we don't yet have answers
"As my career progresses, I hope to be able to contribute to scholarship funds so that I can help young students like I was helped," says Kim. "My A. James Clark Scholarship helped set me up for personal and professional success, and I want to be able to do the same for someone else."
Top