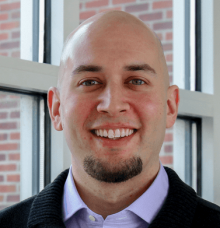 Levin, David
Associate Professor

Computer Science
Maryland Cybersecurity Center
UMIACS
Electrical and Computer Engineering

5222 Iribe Center

EDUCATION
B.S. in Computer Science, University of Maryland, 2002 
B.S. in Mathematics, University of Maryland, 2002
Ph.D. in Computer Science, University of Maryland, 2010
BACKGROUND
Dave Levin is an associate professor in the Department of Computer Science with a joint appointment in the University of Maryland Institute for  Advanced Computer Studies. He is a core faculty member in the Maryland Cybersecurity Center. Levin also serves as co-chair of the Department of Computer Science's Undergraduate Honors Program. 
He empirically measures security on the Internet to understand how security breaks down, and applies economics and cryptography to design and build new systems with provable and usable security. Levin measures the web's PKI, censorship avoidance, DNS root servers and more. 
He received Distinguished Paper Awards at the USENIX Security Symposium in 2017 and 2021, the Undergraduate Research Mentoring Award from the National Center for Women & Information Technology in 2020, the UMD College of Computer, Mathematical, and Natural Science's Dean's Award for Excellence in Teaching in 2018, the IEEE Cybersecurity Award for Innovation in 2017, the Outstanding Reviewer Award at SIGCOMM 2012, the Microsoft Live Labs Fellowship in 2008, the Best Paper Award at USENIX NSDI 2009, the Dean's Fellowship for Excellence in Research for the Department of Computer Science at UMD in 2006, the Outstanding Undergraduate Computer Science Teaching Assistant Award at UMD in 2002, and others.
Levin received his doctorate in computer science from the University of Maryland.
HONORS AND AWARDS
Distinguished Paper Awards, USENIX Security Symposium (2017 & 2021)
Undergraduate Research Mentoring Award, National Center for Women & Information Technology (2020)
UMD College of Computer, Mathematical, and Natural Science's Dean's Award for Excellence in Teaching (2018)
IEEE Cybersecurity Award for Innovation, 2017
Outstanding Reviewer Award, SIGCOMM (2012)
Microsoft Live Labs Fellowship (2008)
Best Paper Award, USENIX NSDI (2009)
Dean's Fellowship for Excellence in Research, UMD Department of Computer Science (2006)
Outstanding Undergraduate Computer Science Teaching Assistant Award at UMD (2002)
Cybersecurity 
Cryptography 
Systems and Networking