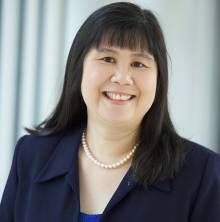 Lin, Ming
Professor
Dr. Barry Mersky and Capital One Endowed Professor
Distinguished University Professor

Computer Science
Maryland Robotics Center
Electrical and Computer Engineering
The Institute for Systems Research

5162 Brendan Iribe Center

EDUCATION
Ph.D., University of California at Berkeley
M.S., University of California at Berkeley
B.S., University of California at Berkeley
HONORS
TEACHING
Invited Tutorials (not including keynotes) for GDC 1999, 2000, 2003; ACM SMA 2002; CASA 2004; ACM VRCIA 2006; IEEE VR 2010.
Algorithms and Analysis (Spring 2016); Also offered in Spring 2014, 2013, 2012, 2011, and Fall 2009, 2008 2007, Fall 2005, Fall 2002, Fall 2001, Fall 2000, Fall 1999, Spring 1999.
Everyday Computing Fall 2013; Spring 2011
Everyday Computing (HONORS) (Fall 2015)
Physically-Based Modeling, Simulation and Animation; Also offered in (Fall 2014); Fall 2012, Fall 2010, Spring 2009, Fall 2007, Spring 2006, Spring 2005, Spring 2004, Spring 2003, Spring 2002, Spring 2000, Fall 1995.
Award recognizes alumni who have made significant and meritorious contributions to their fields
The A. James Clark School of Engineering ranks 19 overall among more than 200 undergraduate engineering programs—up three positions from its previous undergraduate ranking.
Shihab Shamma will combine computational and brain research techniques to elucidate the mechanisms behind enculturation.
How to Build, Fly, and Verify Autonomous Aerial Systems held in Southern Maryland
Campus Pride, BestColleges.com Highlight Campus Climate, Student Safety, Support
40th Annual Conference heavily focused on machine learning research
University of Maryland camp offered at University System of Maryland at Southern Maryland campus
MRC researchers have a strong showing at ICRA 2023.
The University of Maryland hosted a large international K-12 underwater robotics competition on May 13.
Institute to Aim for Broader Participation in AI Technology Development, More-Informed Governance of AI-Infused Systems
Institute of Electrical and Electronics Engineers (IEEE)
Association for Computing Machinery (ACM)