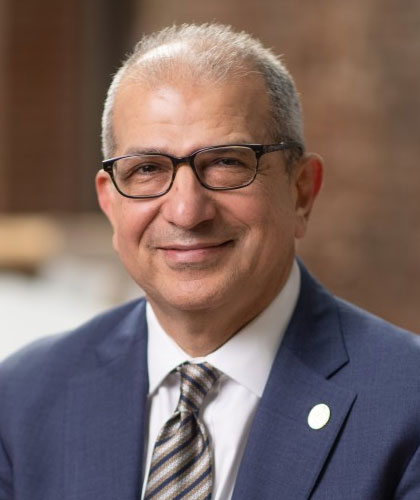 Farvardin, Nariman
Professor Emeritus

Electrical and Computer Engineering

Website(s):

Dr. Nariman Farvardin is currently the seventh president of Stevens Institute of Technology, having joined Stevens in July 2011 after a 27-year career as a faculty member and academic administrator culminating as Senior Vice President for Academic Affairs and Provost at the University of Maryland.
Farvardin received his B.S., M.S., and Ph.D. degrees in Electrical Engineering from Rensselaer Polytechnic Institute in 1979, 1980, and 1983 respectively. He was dean of the A. James Clark School of Engineering (2000-07) and chair of the Department of Electrical and Computer Engineering (1994-2000) before being named senior vice president for academic affairs and provost in July 2007. 
As provost, he spearheaded the development of the university's strategic plan and led the early phase of its implementation of the within the Division of Academic Affairs. As dean, Farvardin promoted the development of innovative educational programs, especially at the undergraduate level; supported the development of major research programs; created initiatives to improve student and faculty diversity; and enhanced the school's partnerships with industry. 
Three Clark School professors have been newly chosen as 2022 Fellows by the American Association for the Advancement of Science (AAAS), the world's largest general scientific society and publisher of the
Science
family of journals.
Jennifer L. Schwartz will become the next Chief Development Officer & Assistant Dean for the A. James Clark School of Engineering on September 12, 2022.
He will lead Clark School research, partnership and outreach activities in Southern Maryland.
Messages to our Winter 2021 Clark School graduates from Dean Samuel Graham, Jr. and Jaser Attallah '21, electrical engineering graduate.
Clark School dean's research highlights promising new materials in ultrawide bandgap electronics.
Christopher T. Jones (Ph.D. '97) and Rajiv Laroia (M.S. '89, Ph.D. '92) have been elected to the 2021 Class of the National Academy of Engineering, one of the highest professional recognitions in an engineer's career.
Laroia founded Flarion Technologies in 2000 and developed Flash-OFDM broadband wireless technology there.
The Office of Advanced Engineering Education has changed its name to Maryland Applied Graduate Engineering.
Darryll Pines has served as Dean of the A. James Clark School of Engineering since January 2009.
The Clark School welcomes six National Academy Engineering members who will be returning to or joining our faculty this fall.