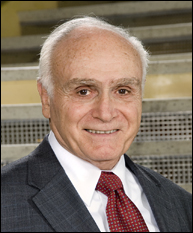 Rabin, Herbert
Professor Emeritus

Electrical and Computer Engineering

2120 Potomac Building

BACKGROUND
Dr. Herbert Rabin has served as Interim Dean and Associate Dean of the College of Engineering and Professor of Electrical and Computer Engineering, University of Maryland, College Park, Maryland since 1983. He was the founding director of the Maryland Technology Enterprise Institute (MTECH), a program established to bridge between the University and industry, to foster the development of new technology-based companies, and to promote entrepreneurship among faculty and students.  Dr Rabin served as the Interim Dean of the A. James Clark School of Engineering during 1999 and 2000, and again from 2007-2008.  Prior to his current employment, Dr. Rabin served as Deputy Assistant Secretary of the Navy (Research, Applied and Space Technology), 1979-83, and before that he served in a number of positions at the Naval Research Laboratory, the last of which was Associate Director of Research with responsibility for space programs, 1971-79.  His degrees are in physics (BS University of Wisconsin, MS University of Illinois, and PhD University of Maryland).  Dr. Rabin is a fellow of several professional societies (American Physical Society, Optical Society of America, American Association for the Advancement of Science, and American Institute of Aeronautics and Astronautics).  In addition to his work on a number of space science and technology programs, he has conducted research in the study of defect structure in solids and in nonlinear optics.  He has been the recipient of a number of awards, including the Department of Defense Distinguished Civilian Service Award. Dr. Rabin has served on numerous Federal and State advisory boards, panels and studies.  He also has been active and a consultant to industry and as a member of corporate boards of directors.   
HONORS AND AWARDS
    •    University of Maryland President's Medal (2010)
    •    Department of Defense Distinguished Civilian Service Award
    •    American Physical Society Fellow
    •    Optical Society of America Fellow
    •    American Association for the Advancement of Science Fellow
    •    American Institute of Aeronautics and Astronautics Fellow
Nonlinear optics, space science
Alum Vikram Manikonda to support ECE Graduate Students
New Research Published in Nature
Direct metal melt printing towards additive manufacturing of multi-principal element alloys
He will lead Clark School research, partnership and outreach activities in Southern Maryland.
Clark School researchers among the "who's who" of influential researchers, according to Clarivate.
Abshire, Fisher and Hu honored for outstanding success in scholarly accomplishment and excellence in teaching.
Six Clark School faculty and staff will be honored at UMD's 38th annual Convocation on Sept. 15, 2021.
Fourteen Clark School students pursuing their Ph.D.s in engineering have been awarded Ann G. Wylie Dissertation Fellowships by the University of Maryland Graduate School.
Clarivate Highly Cited Researchers have published multiple papers frequently cited by their peers over the last decade.
Since April 2020, the COVID-19 Impact Analysis Platform has provided decision makers with a clear view of how the current epidemiological situation affects our society, economy, mobility, and public health.
Optical Society of America (OSA)