PBS Nightly Business Report Features Maryland NanoCenter, MEMS Lab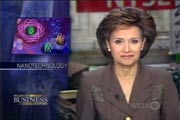 PBS's
Nightly Business Report
aired a segment on nanotechnology featuring the Maryland NanoCenter on Wednesday, November 23, 2005. Footage for the segment was filmed during a visit to campus in August, which included a tour of Associate Professor
Reza Ghodssi
's (
ECE
/
ISR
)
MEMS Sensors and Actuators Lab
.
The program could be viewed locally on WETA (channel 26) at 6:30 pm and on Maryland Public Television (channel 22) at 7:00 pm.
A transcript of the segment, titled The Science & Business of Nanotechnology, includes an interview with Minta Martin Professor and NanoCenter Director Dr. Gary Rubloff (ECE/ISR), and can be found on the Nightly Business Report website.
Click below to see the video:

Click here to view photos from the visit to campus.
Also see:
Small Times Ranks University of Maryland #1 in Nanotechnology Research & Education
The University of Maryland's nanotechnology programs gain increasing national attention, including a #1 ranking from Small Times, and a news piece in the Washington Post.
Nanotechnology Labs in the New Kim Building
Learn more about the FabLab, NispLab, and Keck Lab in the new Kim Engineering Building.
Published November 23, 2005