8th ECE Career Fair Attracts 42 Employers and Over 750 Students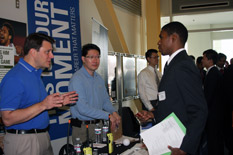 The 8th annual Electrical and Computer Engineering (ECE) Career Fair attracted 42 employers and more than 750 students on February 10, 2012 in the Jeong H. Kim Engineering Building.
The career fair included the following employers:
Accenture; Aerospace Corporation; Army Research Lab; Assured Information Security; Inc., Booz Allen Hamilton, Brookhaven National Laboratory, Cadence, CISCO, Cognizant, General Dynamics Advanced Information Systems, Gibbs & Cox, Inc., Global Prior Art, GlobalNet Services, Inc., Hughes, Intelligent Automation, Inc., INTELSAT, InterDigital, James Posey Associates, Johns Hopkins University Applied Physics Lab, KeyTech, L-3, LGS, ManTech International Corporation, MIT Lincoln Laboratory, MicroStrategy, Motorola Solutions, National Security Agency, Naval Research Lab, Northrop Grumman, PCTest Engineering Laboratory, Inc., Qualcomm, Raytheon; Raytheon BBN; SAIC; Solers; Sparta, A Parsons Company; Sterne Kessler Goldstein Fox; Tata Consultancy Services; TeleworX, Tenable; Texas Instruments; The SI Organization; and 3Phoenix.
The participating employers offered opportunities for internships and co-ops, as well as full-time positions. The department invited all ECE, Telecommunications, and Computer Science undergraduate, graduate and post-doctoral students to attend. Jason's Deli catered lunch for the employers and the students.
The ECE Career Fair's sponsors were the Engineering Co-op & Career Services Office, the ECE Graduate Student Association, the ECE Undergraduate Student Council, the Maryland Cybersecurity Club and Eta Kappa Nu.
Photos from the event can be seen at:
http://www.flickr.com//photos/69784544@N07/sets/72157629348182421/show/
For more information, visit www.ece.umd.edu/fair or contact Carrie Hilmer at chilmer@umd.edu.
Published February 16, 2012