Alumnus Ahmadi Wins Alfred P. Sloan Foundation Fellowship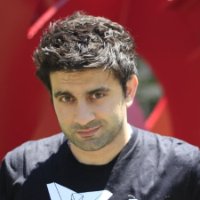 Amir Ali Ahmadi, Assistant Professor in the Department of Operations Research and Financial Engineering at Princeton University, was selected this year as one of only 126 individuals in the US to win an Alfred P. Sloan Foundation Fellowship. These two-year, $60,000 fellowships are awarded yearly to individuals in recognition of distinguished performance and a unique potential to make substantial contributions to their field.
Ahmadi received Bachelor's Degrees in Electrical Engineering and Mathematics from the University of Maryland in 2006. Amir Ali was an undergraduate researcher in the ECE department under the supervision of Prof. Thomas E. Murphy and Dr. Reza Salem (for his work in photonics) and Prof. Thomas Antonsen and Prof. Edward Ott (for his work on chaotic properties of fluid mixings).
Regarding his experience at Maryland, Amir Ali writes: "I have amazing memories from my time at UMD - it was my first home after immigrating to the US, and I truly believe my education there set the foundation on which my current research is built. My decision to purse graduate work in optimization was very much a result of taking two ECE courses from Prof. Andre Tits (Signals and Systems, and Optimal Control). At Maryland, I was so fortunate to receive amazing mentorship from several top-notch researchers such as Thomas Antonsen, Thomas Murphy, Edward Ott, Reza Salem, Andre Tits, and James Yorke."
At Princeton University, Ahmadi develops new algorithms and new understanding of optimization problems. He won the NSF CAREER Award, the Google Faculty Award, the Young Investigator Program Award of the AFOSR, and several best paper and teaching awards.
Published February 27, 2017