Alumnus Appointed Associate Dean for Research and Graduate Studies at GWU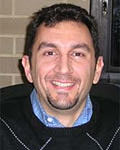 ECE alumnus
Can Korman
has been appointed as Associate Dean for Research and Graduate Studies at George Washington University's School of Engineering and Applied Science. Dr. Korman, who joined the faculty at GWU in 1991, has previously served as Chairman of GWU's Electrical and Computer Engineering Department.
Korman was advised by ECE Professor Isaak Mayergoyz, and earned all three of his advanced degrees at the University of Maryland — a B.S. in 1985, M.S. in 1987, and Ph.D. in 1990.
Korman's research interests are in the areas of microelectronics, VLSI, magnetics, numerical modeling, and digital signal processing. His current research projects are in the areas of noise in semiconductor devices, micro-electro-mechanical systems (MEMS) and magnetic aftereffect.
Published November 8, 2009