Alumnus El Sherif Joins Faculty at Alexandria University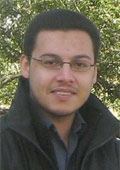 ECE alumnus
Amr El Sherif
(Ph.D., E.E., '09) has joined Alexandria University, Egypt, as an Assistant Professor.
During his time as a student at the University of Maryland, he was advised by Prof. K. J. Ray Liu. Before enrolling in Maryland's Electrical and Computer Engineering program, Amr El Sherif received his B.S. degree with highest Honors and M.S. degree in Electrical Engineering from Alexandria University, Egypt, in 2002 and 2005, respectively.
His research interests include cooperative communications and networking, cognitive radios and dynamic spectrum sharing, and queuing theory. His Ph.D. thesis title was "Cognitive Multiple Access for Cooperative Communications and Networking."
Published April 27, 2010