Beyaz Wins 2nd Place in Dean's Doctoral Research Award Competition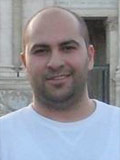 ECE Ph.D. student
Mustafa Beyaz
was awarded second place in the 2010 Dean's Doctoral Student Research Award Competition.
Mustafa, an advisee of Herbert Rabin Distinguished Professor and Director of the Institute for Systems Research (ISR) Reza Ghodssi, was recognized for his research, titled "A MEMS Microgenerator for Small-Scale Power Conversion."
Clark School Dean and Farvardin Professor Darryll Pines created the Dean's Doctoral Research Award in 2009 give top Clark School doctoral student researchers special recognition, and to show all students the importance of high quality engineering research. Students submit their work through competitions at the department level, with winners from each advancing to the Dean's finals.
Mustafa's area of research is Microelectromechanical Systems (MEMS), specifically Power MEMS devices such as micromotors, microgenerators, and microturbines with various actuation mechanisms. He conducts his research in the MEMS Sensors and Actuators Laboratory (MSAL).
Published May 9, 2010