Bhattacharyya Elected Chair of IEEE Signal Processing Committee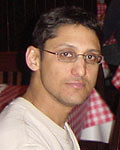 Professor
Shuvra Bhattacharyya
(
ECE
/
UMIACS
) has been elected the new chair of the IEEE Signal Processing Society technical committee on Design and Implementation of Signal Processing Systems (DISPS).
The purpose of the committee is to promote and support activities of the Signal Processing Society in the areas of design, development and implementation of signal processing systems, design of algorithms for implementation, and the design of software tools and methodologies to support the design of signal processing systems.
Dr. Bhattacharyya will serve a two-year term as chair of the committee, beginning in January 2008. More information is available on the DISPS technical committee web page at: http://users.ece.utexas.edu/~bevans/disps/.
Published December 17, 2007