Clark School Baja Team Tops in U.S.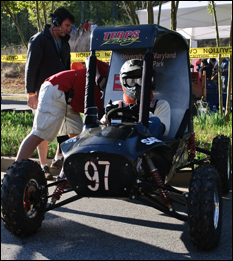 A team of Clark School mechanical engineering students recently competed in the 2010 Baja SAE Carolina competition at the Clemson University International Center for Automotive Research. They placed fourth overall and first out of the U.S. teams.
A thousand students from 100 universities competed for three days in various design, suspension and maneuverability events. The final event of the weekend was a four-hour endurance race on a rugged and challenging off-road course.
"We can all be proud of the Maryland team lead by Advisor Greg Schultz," said Clark School Dean Darryll Pines. "They competed well all weekend and finished 4th overall in a very competitive field."
Here are the team's overall scores for the competition:
Overall: 4th, 1st in the USA
Endurance: 9th
Pull Event: 21st
Maneuverability: 12th
Acceleration: 7th
Design: 4th
Cost: 29th
Earlier this year, the TerpsRacing Baja team placed in the top five at another competition in Michigan.
Published June 9, 2010