Clearspring CEO Speaks at Clark School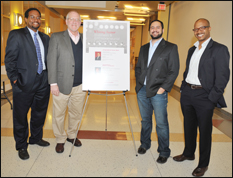 Hooman Radfar
, founder and CEO of Clearspring Technologies, delivered the first Whiting-Turner Business and Entrepreneurial lecture of the spring semester on April 2. His lecture was titled "The Business of Social Media."
Radfar's lecture was built around a set of themes designed to explain both the importance of social networking and the forces that are already changing it. For example, six out of 10 of the largest websites in 2008 were social, compared to five years ago when the web was dominated by the likes of AOL, Yahoo and Google. This trend will only continue, Radfar said.
Radfar defined social networking for the audience and its potential impact on daily life, noting that he used social networking to develop ideas for his lecture.
For an archived webcast of Radfar's lecture, click here.
Dr. Harvey Fineberg, president of the Institute of Medicine of the National Academies, will deliver the next Whiting-Turner lecture on the evening of April 21 at 5 p.m. in the Kim Building lecture hall as part of the 3rd Annual Fischell Festival of Bioengineering.
Published April 7, 2009