ECE Hosts Inventor Dean Kamen for Centennial Weekend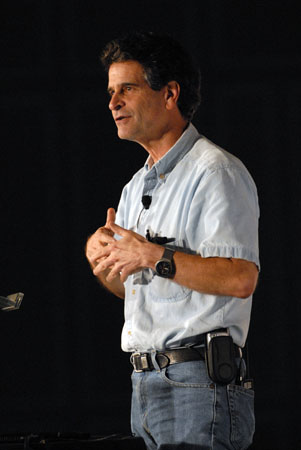 The Department of Electrical and Computer Engineering (ECE) at the University of Maryland's A. James Clark School of Engineering marked its 100th anniversary (1908-2008) with a special ECE Centennial weekend of events on September 26-27, 2008.
Over 350 alumni, students, faculty, corporate partners, and friends of the university registered for ECE Centennial Weekend. Highlights included an alumni reception at the University of Maryland Golf Course Clubhouse on Friday evening; a luncheon and pair of daytime forum events featuring experts from across the country speaking about "The Future of Information Systems and Communications" and "The Future of Energy" on Saturday; and a dinner and gala event on Saturday evening that included a keynote presentation by inventor Dean Kamen.
Kamen, an accomplished inventor, entrepreneur, and a tireless advocate for science and technology, is the founder of DEKA Research & Development Corporation. He holds more than 440 U.S. and foreign patents for innovative devices that have expanded the frontiers of health care worldwide. Some of his notable inventions include the first wearable insulin pump for diabetics, the HomeChoice™ portable peritoneal dialysis machine, the INDEPENDENCE® IBOT® Mobility System, and the Segway® Human Transporter. One of his newest projects is the development of a revolutionary water purification system that is being designed to help provide clean drinking water to the estimated 1.1 billion of people in the world who lack access to clean water. Among Mr. Kamen's proudest accomplishments is founding FIRST (For Inspiration and Recognition of Science and Technology), an organization dedicated to motivating the next generation to understand, use, and enjoy science and technology. Kamen was awarded the National Medal of Technology in 2000, the Lemelson-MIT Prize in 2002, is a member of the National Academy of Engineers and was inducted into the National Inventors Hall of Fame in May 2005.
Participants for the ECE Centennial Forum on "The Future of Information Systems and Communications" included:
Victor Bahl, Principal Researcher, Microsoft Corp.
Michael Brown (B.S., CS, '92), Executive VP, comScore
Douglas Himberger, VP, Booz Allen Hamilton
Rajiv Laroia, (Ph.D., EE, '92), CTO, Qualcomm Flarion Technologies
Nariman Farvardin, Senior VP for Academic Affairs & Provost of the University of Maryland, served as moderator for the event.
Participants for the Centennial Forum on "The Future of Energy" included:
David Goodstein, Professor & Former Vice Provost, Cal. Tech.
Larry Kazmerski, Director, Photovoltaics, Natl. Renewable Energy Lab (NREL)
Joseph Turnage, Senior VP, Constellation Energy
Steven Cowley, Director, Culham Science Center, UK, Professor, UCLA
H. Frederick Dylla, Executive Director & CEO of the American Institute of Physics, served as moderator for the event.
William E. Kirwan, Chancellor of the University System of Maryland, spoke during the Centennial Luncheon, which took place between the two Centennial Forum events. Dr. Kirwan remarked on the close interaction he had with Electrical Engineering over the years, particularly during his time as President of the University of Maryland, and the importance of the department as a driving force in raising the reputation of the university.
ECE Centennial Weekend was sponsored by Qualcomm, Texas Instruments, Booz Allen Hamilton, Lockheed Martin, Thales Communications, and Sun Microsystems.
Video footage from the two Centennial Forum events, as well as photos from ECE Centennial Weekend, are available online at:
http://www.ece.umd.edu/centennial/.
Published September 29, 2008