ECE Welcomes New Affiliate Faculty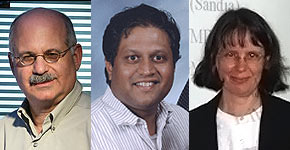 Professors
Larry Davis
,
Ramani Duraiswami
, and
Dianne O'Leary
have joined the Electrical and Computer Engineering Department as affiliate faculty. All three faculty members are primarily affiliated with the Computer Science Department.
Larry Davis is a Professor in the Institute for Advanced Computer Studies (UMIACS) and serves as Chair of the Department of Computer Science (CS). He is also affiliated with the Computer Vision Laboratory of the Center for Automation Research, for which he served as the head from 1981-86. His research interests include visual surveillance and human movement and interaction.
Ramani Duraiswami is an associate professor in the (CS) Department and (UMIACS). He directs research at the Perceptual Interfaces and Reality Laboratory (PIRL). Prof. Duraiswami has broad research interests in computer audition, computer vision and scientific computing.
Dianne O'Leary is a professor in the (CS) Department and (UMIACS). She received her B.S. at Purdue University in 1972 and her Ph.D. at Stanford in 1976. Her research interests include computational linear algebra, optimization, protein folding, information retrieval, scientific computing, and parallel numeric algorithms.
For a complete list of ECE affiliate faculty, visit: http://www.ece.umd.edu/meet/faculty/#affiliate.
Published November 29, 2007