ENES 489P holds end-of-semester design competition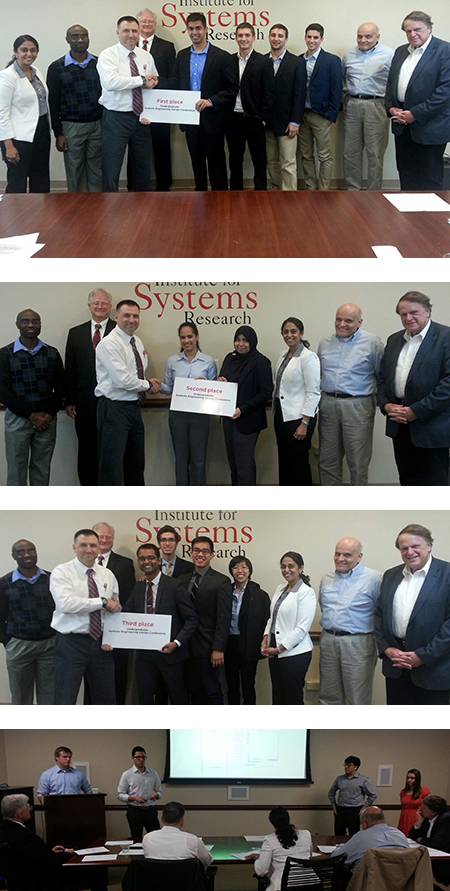 On May 5, Professor John Baras's (ECE/ISR) capstone course ENES 489P "Hands-On Systems Engineering Projects" held its end-of-the-semester Undergraduate Systems Engineering Design Conference. Ten teams of undergraduate students from multiple engineering disciplines presented the results of their model-based systems engineering design projects. The presentations and projects were judged by a distinguished panel of industry professionals:
Aastha Verma, Chief Scientist, Booz Allen Hamilton (ISR alumna, MSSE 2003, BS EE 1997)
Don York, Technical Fellow and Senior Systems Engineer, TASC, an Engility Company
Dan Rubel, Director of Systems Engineering, Textron Systems
The top three student teams were awarded prizes sponsored by Textron Systems and the Lockheed Martin Chair in Systems Engineering.
The winners were:
First place: Solar Decathlon Grid Independent Home, by Josh Charnoff, Michael D'Antonio, Dan Fresella, and Kyle Moler
Second Place: Collision Avoidance System (CAS), by Kimberly Del Villar, Musarrat Haque, Matthew Hetzer, and Sahil Kulgod
Third place: From Exhaust to Energy: Designing an Automotive Thermoelectric Generator, by Emmeline Chen, Avellino Ernestanto, Tousif Khan, and Santiago Sanz
Published May 6, 2016