GAMMA Research Group is Developing Novel COVID-19 Prevention Robots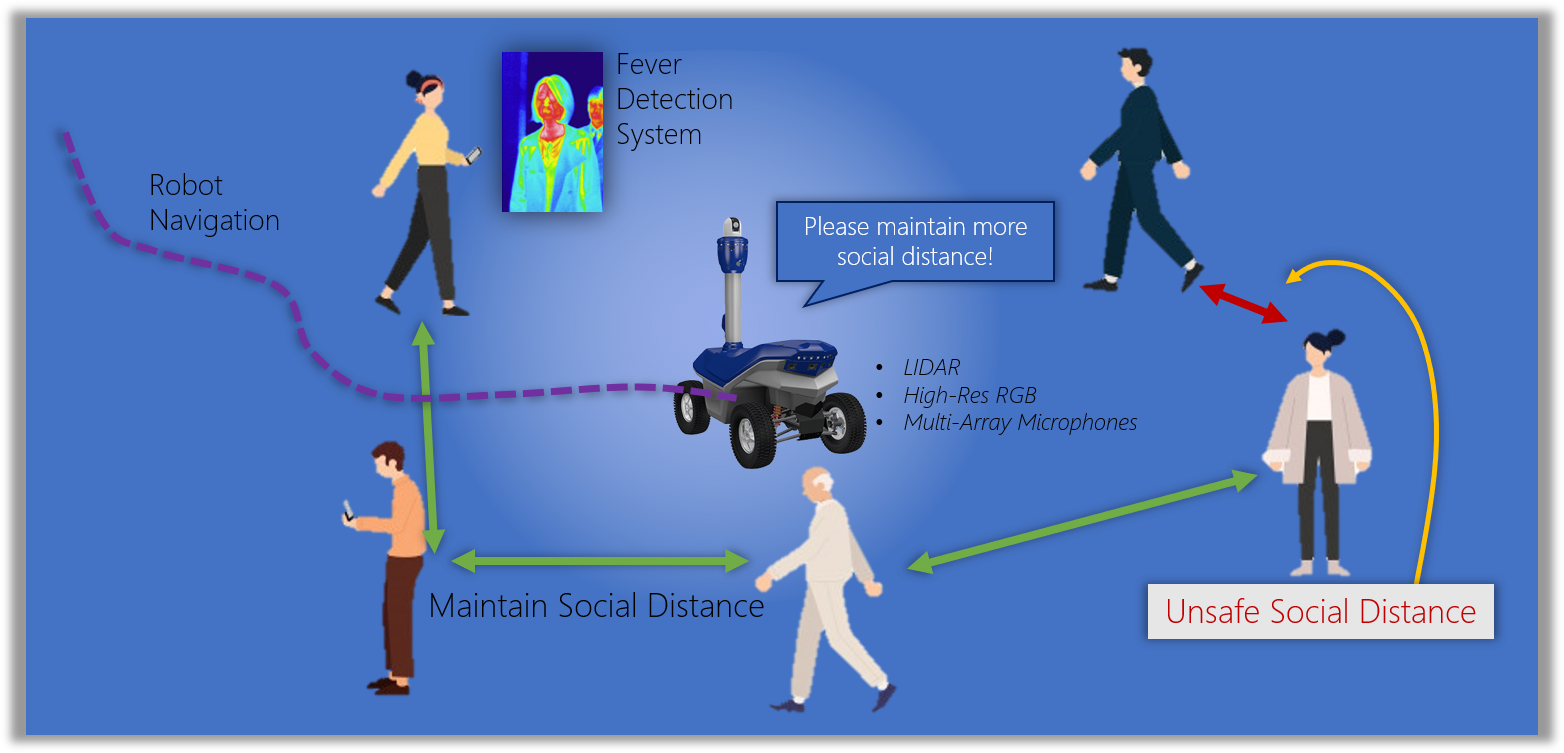 As of June 23, there are over two million confirmed Coronavirus (COVID-19) cases in the United States, and nine million across the world. To slow the spread of the virus, the Centers for Disease Control and Prevention (CDC) and World Health Organization (WHO) have encouraged social distancing measures (maintaining six feet of space between individuals outside of the home) to slow down the outbreak, reduce the chance of infection among high-risk populations, and reduce the strain on the health care system. The need to enforce social distancing is higher in densely populated areas, and some cities are considering the use of drones to monitor pedestrians in large open spaces.
To address the need for social distancing enforcement, GAMMA Group Members of the University of Maryland, led by Professors Dinesh Manocha (ECE/CS/UMIACS/ISR/Robotics) and Aniket Bera (UMIACS/CS/Robotics), are developing novel COVID-19 Prevention Robots (CPR) using mobile robots and commodity sensors. The NSF EAGER project intends to monitor pedestrian movements, using cameras and other sensors, that will automatically check for vital signs to gather reliable data, and investigate techniques to influence the behaviors of pedestrians to change their social behavior using robots. CPR will automatically monitor pedestrian movements and detect whether they are maintaining social distances. CPR will also combine prior work in social psychology and behavior modeling to develop new methods to influence the behaviors of pedestrians using robots, in terms of social distances.
The development of AI-based technologies for real time monitoring of individuals across diverse environments can have a significant impact on surveillance, mental health, and human-robot interaction. CPRs could provide more accurate monitoring technologies due to less sensitivity to reactance. This research has the potential to benefit society monitoring systems to detect anomalous individuals in public settings, especially to minimize the spread of COVID-19 cases.
Read more about the project here.
Published June 23, 2020