Ghodssi To Give Plenary at International MEMS Conference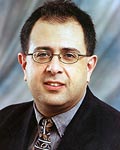 Professor
Reza Ghodssi
(
ECE
/
ISR
) will be one of the plenary speakers at the
2008 Symposium on Design, Test, Integration, Packaging of MEMS/MOEMS
in Nice, France in April.
The goal of the symposium is to provide a forum for interdisciplinary discussions involving design, modeling, testing, micromachining, microfabrication, integration and packaging of microstructures, devices and systems.
Dr. Ghodssi will speak on the subject of "Integrative MEMS/NEMS Technology for Micro and Nano Systems," presenting an overview of the process technologies developed in his research group at the MEMS (Micro-Electro-Mechanical Systems) Sensors and Actuators Lab.
For more information, visit: http://cmp.imag.fr/conferences/dtip2008/invitedspeakers.php.
Published November 23, 2007