Oruc Delivers Keynote on Frontiers of Science and Technology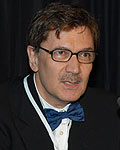 ECE Professor
A. Yavuz Oruc
delivered a keynote lecture at Suleyman Demirel University in Isparta, Turkey on November 14, 2007. The title of the talk was "Frontiers of Science and Technology: Which is Driving Which and How Discoveries Are Made."
Dr. Oruc's talk explored the history of electrical science and engineering from Thales of Miletus in 600 B.C. to the invention of the transistor in 1947, and examined current technologies and their potential to shape the future.
Dr. Oruc was presented with a statue of the founder of Turkey by the Rector of the University at the end of the invited lecture.
To see photos from the event, visit:

http://basin.sdu.edu.tr/haber/2007/2210/2210.htm

.
Published November 23, 2007