Hundreds Attend First Maryland Robotics Day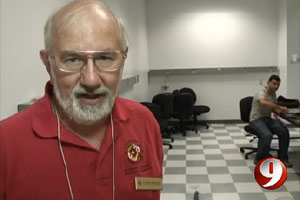 Over 400 visitors came to College Park to attend the first Maryland Robotics Day on Friday, September 10. Attendees included high school students, science teachers, and parents, as well as representatives from national laboratories and industry.
A total of 16 research laboratories on campus showcased their robotic projects. Graduate students and faculty advisors demonstrated their robotics work, and undergraduate students from the Science, Technology and Society honors program acted as guides throughout the event. The keynote speaker was Dr. Martin Buehler, Director of Research at iRobot.
The open house drew reporters from television, radio and print media, including Voice of America (VOA), CBS Channel 9, Fox Channel 5, Science News, International Flight Magazine, Capitol News Service, and the Prince George's Sentinel, among others.
Electrical and Computer Engineering (ECE) Associate Chair for External Relations and Professor Gil Blankenship, ECE alumnus John Karvounis, and Engineer Jay Renner were featured prominently in the Channel 9 news coverage, which featured Prof. Blankenship's autonomous robots in action. View Channel 9's coverage here.
Maryland Robotics Day was the kickoff event for the Maryland Robotics Center, formed earlier this year by the A. James Clark School of Engineering, and housed within the Institute for Systems Research (ISR). Professor S.K. Gupta is the center's director. The Center consists of 25 faculty members spanning Aerospace Engineering, Bioengineering, Biology, Civil and Environmental Engineering, Computer Science, Electrical and Computer Engineering, and Mechanical Engineering.
ISR Director Reza Ghodssi called the event "an excellent demonstration of our strength and expertise in robotics at Maryland. We are now officially located on the world robotics map."
Published September 13, 2010