Iliadis To Give Talk on Nanosensors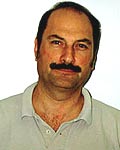 Prof.
Agis Iliadis
will give an invited talk for the Baltimore Chapter of the Electron Devices and Solid-State Circuits Societies on Thursday, April 29 at 6:00 pm at the National Electronics Museum (formerly the Historical Electronics Museum), located near Thurgood Marshall Baltimore-Washington International (BWI) Airport.
Dr. Iliadis will discuss the development of superior nanosensors for critical environments. State-of-the-art superior-performance gas nanosensors and surface acoustic wave biosensors will be presented, and their properties discussed.
Dr. Iliadis' expertise is in the areas of nanotechnology, sensors, semiconductor devices, and CMOS IC technology. His current research focus is in novel sensors and nanotechnology compatible with CMOS IC technology for developing multi-functionality in CMOS ICs, smart sensor arrays, and nanodevices.
More information about his talk can be found at: http://www.ewh.ieee.org/r2/baltimore/edssc/
Published April 21, 2010