In Memoriam: Derek Hans Blume '03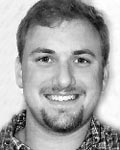 On behalf of the ECE Department, I am sorry to announce the death of a recent Computer Engineering alum from the Class of May 2003. Derek Hans Blume passed away on July 29, 2006.
Derek's family is having an open house to celebrate Derek's life on Saturday, August 5 from 4-7pm in their home in Falls Church, Va. They would like to extend an invitation to Derek's friends and faculty in the Department who knew him. (Dress is casual.) For more information, please contact me at bellj@umd.edu.
- Judith A. Bell, Ed.D., Director
Undergraduate Academic and Administrative Affairs
Obituary from the Washington Post, August 3, 2006:
Derek Hans Blume, 25, of Rockville, MD, died on Saturday, July 29, 2006. Born May 8, 1981, in Norfolk, Virginia. Beloved son of Twila Blume and Dieter Blume; cherished stepson of John Ovington and Anne Voegele. Derek also leaves his grandparents, Lois Fisher, Hans and Eva Blume; eight cousins, Karen and Sarah Fields, William and Stephen Alderfer, Erich Alderfer, Hoban, Salim, and Eden Blume, his many close friends, and his loving girlfriend Lisa Ganocy.
Derek was an avid skier and Ultimate Frisbee player, an incessant tinkerer, an adventurous cook, a budding wine geek, a brew-master, a retro audiophile, and a lover of both cutting edge technologies and antiquated machines, especially his beloved MG, with all, keeping friends ever close at hand. Derek was a rare and beautiful soul, the likes of which we will never see again. He leaves an unimaginable hole in our hearts.
In keeping with Derek's inimitable style, friends and family are invited to gather for an informal reception on Saturday, August 5, 2006, at 4 p.m. at the family's home in Falls Church, Virginia, with an informal service to begin at 7 p.m.
Viewing and visitation will be held on Friday, August 11, 2006, at the Smith Funeral Home in Newport News, Virginia, followed by funeral services on Saturday, August 12, 2006, at the Warwick River Mennonite Church Cemetery in Denbigh, Virginia.
Published August 3, 2006