In Memoriam: Professor Wijesuriya Dayawansa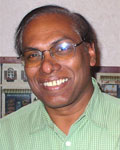 A message from ECE Chair Patrick O'Shea:
It is with great sadness that I inform you of the passing last evening of our former colleague, Professor Wijesuriya ("Daya") Dayawansa, following a recently diagnosed illness. Professor Dayawansa was a member of our faculty from 1989 to 1996 as Assistant and then Associate Professor in Electrical and Computer Engineering and the Institute for Systems Research. He moved to Texas Tech University where he was Paul Whitfield Horn Professor Mathematics and Statistics. He was a highly accomplished researcher and educator in the area of nonlinear control systems with interest in smart structures control and walking machines. He is survived by his wife Samanmalee and their children, Samantha, Tammy, Nuwan, and Seth.
Samanmalee, Daya's wife, has asked for those who knew Daya for many years to please write your thoughts about him and send them by mail to: Samanmalee Sugathadasa, 4502 13th Street, Lubbock TX 79416. Samanmalee would like to save these memories of Daya and share them with her children when they are old enough.
Published October 19, 2006