Memorial Services Held for India Tiller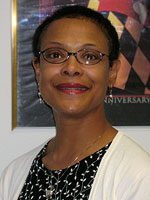 The University of Maryland's Department of Electrical and Computer Engineering (ECE) has lost a staff member and a dear friend.
India Tiller
passed away unexpectedly on Tuesday, February 24. She was 49.
Since 2004, India had served as program management specialist in the ECE Undergraduate Studies office.
"India was the smiling face of the undergraduate office, the first person that every student met," said Patrick O'Shea, Professor and Chair of the ECE Department. "She was always good humored and helpful to all."
India attended high school in Detroit at Osborn High School. She went on to attend college at Capital University in Columbus, Ohio, receiving a B.A. in Speech Science and Communication. She also received an A.A. from the Psychology Center in Catonsville, Md., and later enrolled in the University of Maryland University College Master of Science in Management program. Before joining the ECE Department, India worked as a staff member in the University of Maryland's Department of Business Services from 2000 - 2004.
India was an enthusiastic animal lover and had two dogs: Pepper, a Shih Tzu, and Sammy, a Basenji.
Two services were planned to honor India.
A funeral was held Saturday, February 28th at 12:00 pm at the Prince George's Muslim Association Community Center, located at 9150 Lanham/Severn Rd in Lanham, Md., (301-459-4942). The internment was held at Maryland National Memorial Park, located at 13300 Baltimore Avenue, Laurel, Md., immediately following the service.
The Department also organized a memorial service in India's honor on Tuesday, March 3rd at 3:00 p.m. at the University of Maryland's Main Memorial Chapel. Rebecca Copeland of the Institute for Systems Research led the service, while Patrick O'Shea, Christopher Davis, Judi Bell, Steve Norton, and Robert Newcomb offered remarks and reflections.
The family asked that in lieu of flowers, donations be made to your local humane society in India Tiller's name. (Look up your local humane society here.)
The ECE Department is also collecting funds for a memorial for India. Those interested in contributing should contact Teresa Moore.
Also see:
Coverage of Memorial Service by the Diamondback: 'We Can't Replace Her'
Published February 27, 2009