TSAN Sweeps SOREND Awards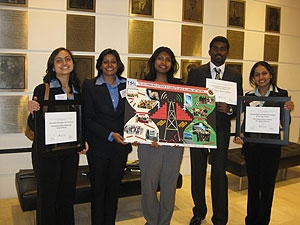 The Telecommunications Students and Alumni Network (TSAN) won all three awards presented at the 4th annual Student Organization Reception and Employer Networking Dinner (SOREND) held on February 19, 2009 at the Riggs Alumni Center.
The awards received include Outstanding Student Organization of the Year, Outstanding Professional Development Program of the Year, in reference to TSAN's work on the Telecommunica Symposium, and TSAN President Karthick A Kasiviswanathan won Outstanding Student Leader of the Year, Runner Up.
Telecommunica is an annual event presented by TSAN in conjunction with the Master's Program in Telecommunications. The 2008 program was held on October 24th in the Kim Building and featured a poster contest, networking event, industry talk, alumni panel and reception. The program provided the opportunity for current students to mix with alumni, industry representatives and working professionals while learning about cutting-edge developments in the telecom industry.
SOREND is organized by the University Career Center and the President's Promise in partnership with the National Security Agency (NSA). This campus-wide event was attended by student organizations, faculty, staff and 63 employers. More than 40 student organizations participated in the competition.
TSAN is the student organization of the Master's Program in Telecommunications at the University of Maryland, College Park whose mission is to promote networking and education between the students and alumni of the program.
Published March 3, 2009