MPG-Like Ratings for Your Home Appliances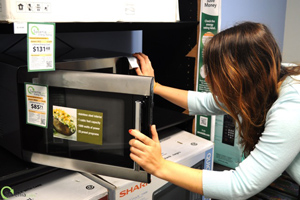 The Center for Advanced Life Cycle Engineering (CALCE) at the University of Maryland's A. James Clark School of Engineering has helped local startup Savenia Labs bring unique energy ratings to consumers of small appliances.
Savenia Labs partnered with CALCE to test coffee makers, toaster ovens and microwave ovens, at the CALCE facilities on the College Park campus. CALCE determined the energy usage of the appliances by running them much like the average consumer would, allowing Savenia to calculate the projected cost of operating the appliances.
Up to now, government energy ratings have been limited to select large appliances, leaving hundreds of popular product categories with no energy or environmental impact information. Savenia Labs developed a 10-step process for independently testing popular appliances to determine each model's energy usage. The result is a Savenia Labs Energy Rating—an easy-to-read store label now available exclusively in Strosniders True Value Hardware Stores in Bethesda and Silver Spring, Md.
Many appliances cost more to run in energy costs than their purchase price. Savenia Labs reports that the most energy-hungry coffeemakers cost more than $500 to run over a five-year lifetime, while the energy-saving models cost around $30 to run over the same time period. Now consumers can access this information before they buy.
"The University of Maryland has been a great local resource for Savenia Labs from the very beginning," says John Jabara, founder of Savenia Labs, which also has worked with the UM School of Public Policy, the Maryland Intellectual Property Legal Resource Center, and the Dingman Center for Entrepreneurship. "They activated on-campus connections to technical and policy experts, legal resources and student interns that were very helpful in getting Savenia Labs from concept to market."
More Information:
Published November 17, 2011