Fifth Annual Casino Night Draws Record Number of Students and Sponsors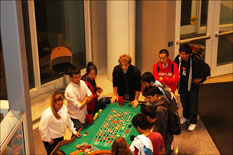 On November 9, 2011, the Electrical and Computer Engineering Undergraduate Student Council (ECE USC) hosted the fifth annual ECE Casino Night in the rotunda of the Jeong H. Kim Engineering Building. More than two hundred students from the A. James Clark School of Engineering, "hit the jackpot" with a night full of networking, games, dinner, and prizes.
Students were invited to attend the event to network with representatives from sponsor companies and socialize with fellow students. Students dressed their best and visited employer tables to network, submit their resumes and talk about job and internship opportunities. Representatives from Lockheed Martin, Northrop Grumman, KeyTech, Tata Consultancy Services (TCS) and MicroStrategy came to join in the fun and meet students.
ECE USC President Kelly Ripple and fellow officer Jason Arora emceed the event. Ante-Up Entertainment provided professional gaming equipment and dealers. Filled with the music of Frank Sinatra, Michael Buble, the click of poker chips, and the whirr of a spinning roulette wheel, the rotunda was transformed for a night of entertainment. Lined with tables for blackjack, poker, craps and roulette, the Kim Building Rotunda echoed with students' cheers and occasional groans of defeat that punctuated the games. Noodles & Company catered a pasta dinner for all participants.
The Undergraduate Student Council organized a raffle for the attendees to close the evening. Door prizes were contributed by corporate donors and ECE USC. The sponsoring companies also contributed prizes, including an iPod Shuffle and an iTunes gift card from MicroStrategy, a Target gift card from Northrop Grumman, a Visa gift card from Key Tech, and a Nintendo Wii from TCS. More contributions were received from corporate donors Paramount Pictures, Microsoft and Omega World Travel. Paramount Pictures donated a premiere prize pack for the not yet released movie, Hugo. Microsoft contributed an X-Box 360 Kinect bundle, and university travel agency, Omega World Travel contributed 2 round-trip continental U.S. airline tickets. ECE USC contributed several additional prizes including two Amazon gift cards and a Best Buy gift card.
Published November 14, 2011