Mihai Dimian Appointed Full Professor at Stefan cel Mare University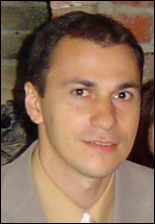 Dr. Mihai Dimian, an alumnus of the Electrical and Computer Engineering Department advised by Dr. Issak Mayergoyz, has been promoted to the position of Full Professor of Engineering at the Stefan cel Mare University in Romania. He was appointed by the Romanian Minister of Education.

Dr. Mihai Dimian graduated with his Ph.D. in Electrical Engineering from the Department of Electrical and Computer Engineering at the University of Maryland, College Park, MD, USA, in 2005. He received multiple B.S. degrees and his M.S. in Dynamical Systems and Theoretical Mechanics from Alexandru Iaon Cuza University in Iasi, Romania. He also completed post-doctoral studies at the Max Planck Institute in Leipzig, Germany. He met Dr. Issak Mayergoyz while a research assistant in the Laboratory of Magnetism and Optics in Versailles, France.
During his time at the University of Maryland, Dr. Dimian was a distinguished graduate research assistant for Dr. Mayergoyz in preparing the book, Mathematical Models of Hysteresis and their Applications, as well as providing assistance for the graduate course in Quantum Mechanics for Engineers and the undergraduate courses on Power Electronics and Electrical Machines and Actuators.
"Dr Mihai Dimian is an established researcher with penetrating and inquiring intellect, strong scientific curiosity, and broad erudition."
Dr. Dimian contributed original research in diverse areas such as magnetization dynamics in nanoscale structures, stochastic aspects of hysteresis, and computational electromagnetics. Publications, such as Physical Review B, Physical Review E, Journal Applied Physics, and IEEE Transactions on Magnetics, have featured his work and research.

Along with his scientific interests, Dr. Dimian has a broad interest in pedagogical interests of teaching that reflects his diverse experience in Romania, France, Germany and the United States. When asked about his former student, Dr. Isaak Mayergoyz said, "Dr Mihai Dimian is an established researcher with penetrating and inquiring intellect, strong scientific curiosity, and broad erudition."
Published November 11, 2011