Munday's Research Selected for Journal of Applied Physics Cover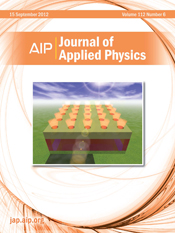 A paper by Professor Jeremy N. Munday (ECE/IREAP), has been published in the Journal of Applied Physics produced by the American Institute of Physics. The paper, titled, "The effect of photonic bandgap materials on the Shockley-Queisser limit," received cover page placement.

The paper illustrates some of the theory work that Professor Munday is undertaking at the A. James Clark School of Engineering in the department of Electrical and Computer Engineering (ECE) and the Institute of Research in Engineering and Applied Physics (IREAP). Shockley and Queisser determined the limiting efficiency of photovoltaic energy conversion using the theory of detailed balance, which described the balance between absorption and emission of photons. However, when a material is placed on top of a solar cell that modifies the transmission of photons (e.g., a photonic crystal), both the absorption and emission of photons are modified. The research illustrates how the addition of a photonic structure can lead to an effective modification of the energy bandgap of the material and can subsequently change its maximum theoretical efficiency, resulting in efficiency gains of several percent.
Journal of Applied Physics is an influential international journal publishing significant new experimental and theoretical results of applied physics research. The journal also publishes special collections focusing on research of particular current or emerging interest. A key component of this journal is Applied Physics Reviews—these articles vary in scope and length from relatively short but authoritative state-of-the-art summaries to comprehensive, critical, monograph-length reviews. Topics covered in Journal of Applied Physics are diverse and reflect the most current applied physics research, including: Applied Biophysics; Dielectrics and Ferroelectricity; Device Physics; Electronic Structure and Transport; Lasers, Optics, and Optoelectronics; Magnetism and Superconductivity; and Structural, Mechanical, Thermodynamic, and Optical Properties of Condensed Matter.
Published September 28, 2012