Remembering Roger Brockett, 1938-2023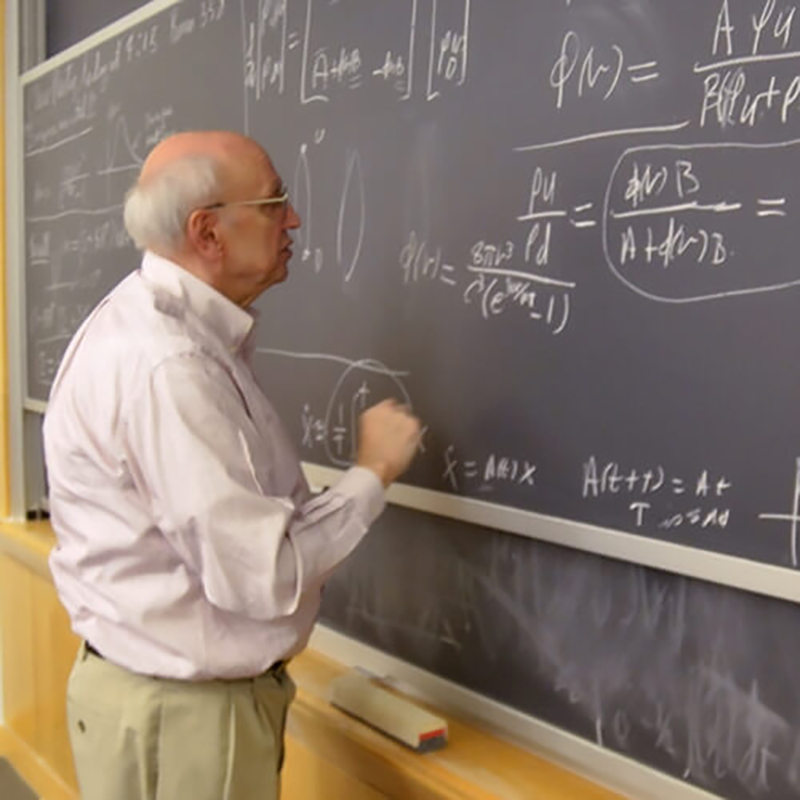 ISR founding and permanent faculty member Roger Ware Brockett passed away March 19, 2023, after suffering a series of cardiac events. He had been hospitalized since October 2022 after sustaining serious injuries in a fall. Born Oct. 22, 1938, Brockett was 84 at the time of his death.
Brockett was the youngest of seven children of Roger Lawrence Brockett and Grace Esther (Patch) Brockett. He grew up on a farm in Seville, Ohio, where hard work, self-sufficiency, and stoicism were everyday virtues. In 1960, he married Carolann Riske, whom he had met in eighth grade, and who survives him. He also is survived by his son, Douglas of Menlo Park, Calif., Douglas's wife, Rei (Chen); and their children, Roger Jensen, Jane, and Helen; his son, Erik of New York City; his daughter-in-law, Louise (Brewster) Brockett of New York City; and her children, William, John, Thomas, and Roger Ware, II; as well as his brother, Richard, of Garrettsville, Ohio, and his wife, Mary Ann (Ross). Brockett's eldest son, Mark, of New York City, predeceased him.
Career and honors
Upon earning his PhD from Case Western Reserve University, Brockett began his academic career at MIT. After six years, he joined Harvard University, where he taught from 1969 to 2011 and was the An Wang Professor of Computer Science and Electrical Engineering. Brockett founded the Harvard Robotics Laboratory in 1983. Upon his retirement, he became a Professor Emeritus at Harvard.
He advised 62 doctoral candidates, many of whom became leading professors. His students included two of ISR's founding faculty, Distinguished University Professor John S. Baras (ECE/ISR) and Professor P. S. Krishnaprasad (ECE/ISR). Baras called Brockett a "giant" who "left a huge and lasting impact" in electrical engineering, control and robotics.
Brocket guest-taught at universities around the globe. He authored or co-authored several hundred scholarly papers. His textbook, Finite Dimensional Linear Systems, is considered a classic. He was elected to the National Academy of Engineering, a Fellow of IEEE, and received dozens of awards and honors including the Donald P. Eckman Award, the Richard E. Bellman Control Heritage Award, the IEEE Control Systems Science and Engineering Award, the Rufus Oldenburger Medal, and the Giorgio Quazza Medal for lifetime achievement.
Brockett's role in establishing ISR
"We will all miss Roger very much as a teacher, mentor, friend, a visionary person that inspired so many, and for his generous and optimistic personality."
Brockett embraced with tremendous enthusiasm the effort to establish the Systems Research Center, now the Institute for Systems Research (ISR), jointly between the University of Maryland and Harvard. Since 1984 he worked tirelessly for its establishment and evolution, and contributed substantially to its research and educational accomplishments.
John Baras writes: "From a certain perspective—and given that several UMD faculty who were involved in the founding and development of ISR were his students—ISR could be considered a natural outgrowth of his visionary and cross-disciplinary thinking and ideas, including the key and foundational concepts emanating from 'systems and control thinking and methodology.'"
Thoughts on Brockett
"The freedom of thought that Roger exemplified was something he strongly encouraged in all his students," Krishnaprasad noted. "The value he placed on this and the cultivation of taste in research has served me well all these years. I remain most grateful to Roger for these and other lessons."
"We will all miss Roger very much as a teacher, mentor, friend, a visionary person that inspired so many, and for his generous and optimistic personality," Baras said.
ISR's memorial page
ISR has added a memorial page to its website with remembrances by John Baras and P. S. Krishnaprasad, photos, and links to additional resources, including a video interview with Brockett conducted by John Baillieul. We encourage you to visit it and learn more about this pioneer of control theory and great friend to ISR, its faculty and its students.
| Visit ISR's Roger Brockett memorial page |
Published March 28, 2023