STEM service: January 2013 robotics workshop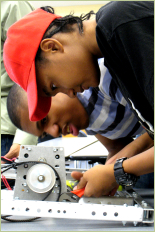 "I'll see YOU in class!"
On Saturday, January 12, 2013, students from 8 high schools gathered on campus to build and learn to program their competition robots. They are all associated with For Inspiration and Recognition of Science and Technology (
FIRST
) as members of FIRST Robotics Challenge (
FRC
) teams. The FIRST season for 2013's FRC challenge, "
Ultimate Ascent
," started on January 5 and culminates on February 19, 2013. FIRST was begun by inventor
Dean Kamen
to attract and retain students to STEM education and careers; more than 50,000 students on 2,500 teams will participate internationally in 2013.
Please see photos from the January 2013 and photos from the January 2012 campus robotics events.
Adult and college student mentors support the teens as they build and program their robots. At Saturday's event, mentors included computer scientists, IT professionals, the STEM program specialist from APL - Denise Lewis, engineers, an electrician, retirees from STEM careers, and dedicated home school parents. Student volunteers from MASE (Mentors Advancing STEM Education) included Nitay Ravin (EE) and Dan Villalobos (Physics).
National Instruments supported this event by staffing a programming workshop in LabVIEW, using several robot-scale teaching breadboards that provide hands on experience. The three NI instructors included Nishantha Fernando, academic field sales engineer for the mid-Atlantic region.
The Science, Technology & Society (STS) program of College Park Scholars hosted the event (first hosted in January 2012) in the Cambridge Community Center. Students in Scholars are encouraged to earn credit for service; students registered in CPSP249T can support after school robotics clubs at Greenbelt E.S. and Eleanor Roosevelt H.S. Developed by Claire Robbins in 2009 and now taught by Matt Aruch, CPSP249T students have benefited from the dedication of these graduate students in the School of Education.
The STS Program will send student volunteers to a scrimmage during the final days of the build period hosted by Phelps A.C.E. High School on February 16, 2013, in Washington DC (photos from 2012). We also will support other FIRST events such as the DC Regional on March 28-30, 2013.
Anyone interested in getting involved in these service activities is welcome to email Betsy Mendelsohn, Director, STS Programs.
Published January 14, 2013