Scholars students visit National Radio Astronomy Observatory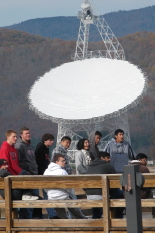 "Detecting hydrogen radio emissions was worth being without a cell phone for 18 hours."
Twenty-six students in the College Park Scholars (Scholars) living-learning program visited the
National Radio Astronomy Observatory at Green Bank
, West Virginia, last weekend to record and analyze neutral hydrogen radio emissions from the heart of the Milky Way. Dr. Neal Miller, Dr. Betsy Mendelsohn, and four Astronomy graduate students accompanied the undergraduates
The undergraduates include freshmen and sophomores from many majors, primarily ENGR and CMNS. They learned how to use the educational 40-foot telescope's analog controls, and several small groups of students each recorded about 3 minutes of radio emissions on a tracer. Dr. Miller and the graduate students then interpreted the series of a dozen tracings into the night. The data show whether that particular part of the Milky Way is approaching or receding from Earth.
Through field experiences such as these, the Scholars programs introduce freshmen and sophomores to research practices and give them hands on experience with observational techniques and equipment. Experiential learning through excursions is a hallmark of the Scholars family of programs. Scholars also brings together students from many majors. Students who participated on this trip are majoring in engineering (mechanical, civil, electrical, materials science, aerospace, and computer), computer science, physics, math, astronomy, business, and biological sciences.
The trip on Oct. 23 & 24, 2010, was the 4th annual visit organized by Dr. Miller's Scholars program, Science, Discovery and the Universe, thanks to the superior organizational skills of Lee Ann Annotti. Six students from the Scholars program Science, Technology and Society, joined the trip with Dr. Mendelsohn.
Combined with a hike up Seneca Rocks and tour of Luray Caverns, this was an action-packed trip on the peak weekend for fall foliage. For more information about the trip and photographs, email Betsy Mendelsohn or Neal Miller.
Published October 26, 2010