The Department of Electrical and Computer Engineering hosts the 4th Annual Back to School Night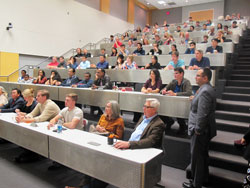 The A. James Clark School of Engineering's ECE Department hosted 50 families for an open house during Family Weekend on Friday, October 14.
Amanda Stein, Director of External Relations, kicked off the event and introduced Neruh Ramirez, Director of Undergraduate Studies, who discussed undergraduate advising and introduced his team of advisors. Dr. Mel Gomez, Associate Chair, showcased course information and statistics, plus relevant research from the program. Following the presentations, two lab tours were given. One was of the ENEE101 "What's Cool About ECE" lab given by Prof. Julius Goldhar and the other was of the newly renovated ENEE307 lab, called the Prof. Jimmy Lin Circuits Design Lab given by Prof. Neil Goldsman. In addition, families experienced the "brain wave" module of ENEE101 showcasing a practical application of electrical engineering and the concept of signal processing.
This gathering on the University's Parents' Weekend has become a signature event for the department and it allows families to gain greater insight into their student's life as an ECE Terp. ECE looks forward to hosting the event again next year! Photos from the event can be viewed here.
Published October 18, 2016