Klawson Presents ENEE 101's Computer Vision Module at ASEE FYEE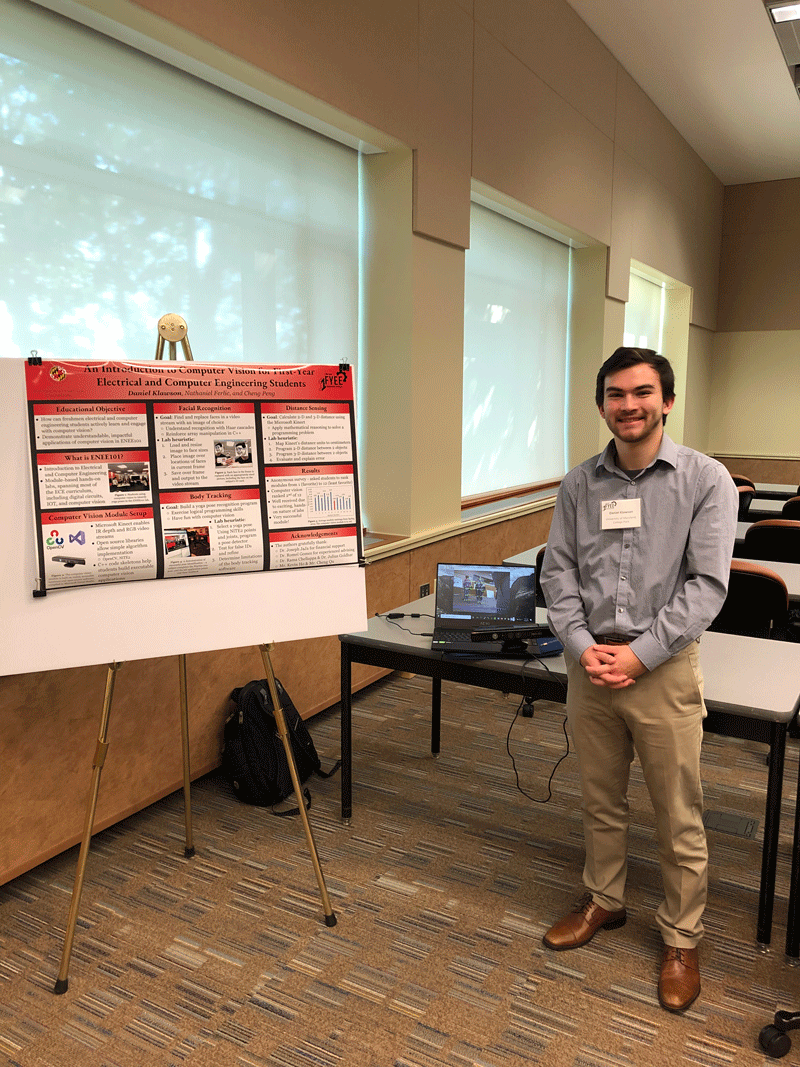 Electrical engineering senior Daniel Klawson presented his paper and presentation titled, "Work in Progress: An Introduction to Computer Vision for First-Year Electrical and Computer Engineering Students," at the 11th annual American Society for Engineering Education (ASEE) First-Year Engineering Experience (FYEE) Conference in State College, Penn., July 28-30.
The work-in-progress paper details one of ENEE101's newest modules, computer vision. ENEE101 is the introductory course to electrical and computer engineering (ECE) at the University of Maryland (UMD). This course provides first-year students with a glimpse into the broad field of ECE through high-level hands-on labs, with the goal of increasing student retention rates and boosting performance in sophomore-year courses; preliminary results have shown an upward trend in major retention and a downward trend in failures. Faculty-proposed modules cover a wide range of subdisciplines in ECE, including optical communications, internet of things, and computer vision. Computer vision has become a popular topic in academia and industry due to its applications in machine learning, artificial intelligence, image recognition, self-driving cars, and more.
Through the computer vision module for ENEE101, Klawson and co-authors, master's students Nathaniel Ferlic and Cheng Peng, seek to answer the following question: how can freshmen students, with almost no prior knowledge of even basic programming, actively learn and engage with computer vision? Their solution is to present students with three hands-on labs using the familiar Microsoft Kinect hardware along with open source computer vision software libraries. The labs Klawson, Ferlic, and Peng introduce cover depth sensing, hand tracking, facial recognition, and body detection. Each topic covers a single day of lab where the students are taught the basics of each concept and complete a C++ template with simple but elegant solutions, built and executed with Microsoft Visual Studio. The goal is to expose students to complex computer vision topics through easily understandable, real-life scenarios to help students realize the impactful applications of computer vision. By achieving this goal, students are prepared for lives as scientists and engineers.
ASEE's FYEE is an opportunity for academic and industry representatives to discuss and share relevant topics in the first year engineering experience. Participants include college deans, department chairs, student service professionals, advisors, faculty in engineering and engineering technology, K-12 teachers, and industry leaders from throughout the country.
View Klawson's paper here.
Published August 6, 2019