Professor Iliadis and Graduate Student Chung present a Novel IC CMOS Sensor for Remote RF Sensing at DTC 2019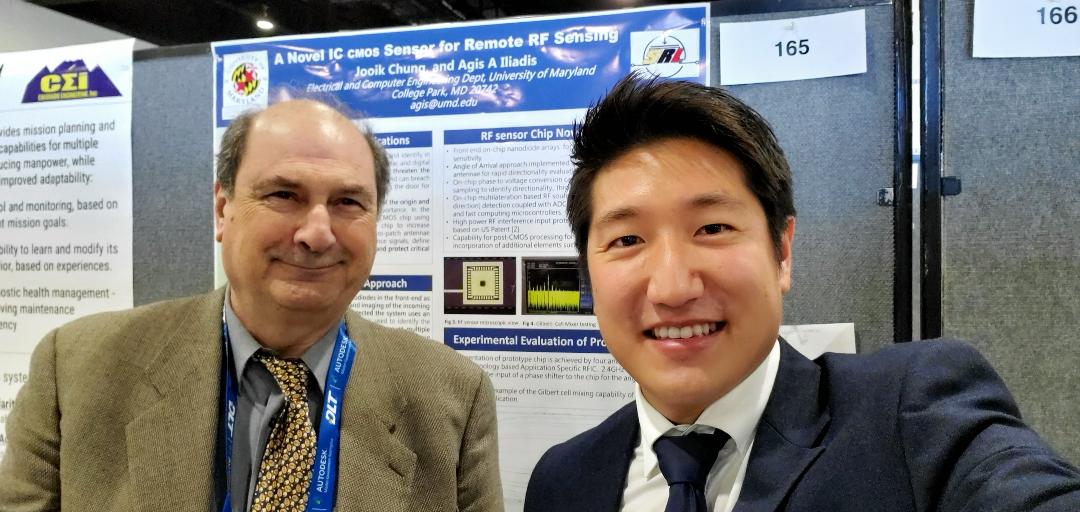 Professor Agis Iliadis (ECE) and graduate student Jooik Chung presented "A Novel IC CMOS Sensor for Remote RF Sensing" at the Defense Techconnect (DTC) Innovation Summit and Expo on October 8 at the National Harbor, Maryland. Their work deals with the rich RF spectrum of mobile communications, Wi-Fi, Radar, and digital data systems, and interference threats that are very difficult to detect and identify. These RF interference signals can threaten the cybersecurity of protected defense or data systems and can breach the integrity of the system and introduce malware, which opens the door for serious data breaches if not detected and identified. The need for a sensor for detection and identification of the origin and legitimacy of such RF signals is of paramount importance. At the conference, Iliadis and Chung presented a fully integrated CMOS chip with increased sensitivity coupled with micro-patch antennas on-chip for the detection of RF interference signals, evaluating their origin, directionality, distance, and signature, to protect critical defense systems from cyber and other threats. Their work generated interest from many companies and agencies.
The annual DTC Summit brings together defense, private industry, federal agency, and academic leadership to accelerate state-of-the-art technology solutions for the warfighter and national security. The DTC supports innovation imperatives in the new National Defense Strategy (NDS) and is a unique platform to reach thousands of public and private leaders focused on innovation and technology to support the warfighter.
Published November 12, 2019