Yan Chen Receives Chinese Government Award for Outstanding Students Abroad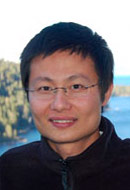 ECE Ph.D. student
Yan Chen
received the 2010 Chinese Government Award for Outstanding Students Abroad. He was one of approximately 500 students to receive the award. Each recipient will be awarded $5,000.
The purpose of the award program is to encourage students to study abroad and engage in new educational experiences across the globe. Since its inception in 2003, a total of more than 2,400 academic awards have been awarded to outstanding doctoral students.
Yan Chen is advised by Associate Chair for Graduate Studies and Research and Christine Yurie Kim Eminent Professor of Information Technology K. J. Ray Liu. Yan Chen received his B.S. degree from the University of Science and Technology of China (USTC) in 2004 and M.S. degree from Hong Kong University of Science and Technology (HKUST) in 2007. His research interests include multimedia social networks, game theory, multimedia signal processing, and cooperative multimedia communication and networking.
Published April 18, 2011