Nanospheres that "Light Up" Solar Cells on the Cover of ACS Applied Materials and Interfaces
UMD research explores how trapped light can improve a solar cell
FOR IMMEDIATE RELEASE November 10, 2016
CONTACT:
Melissa L. Andreychek
301 405 0292
mandreyc@umd.edu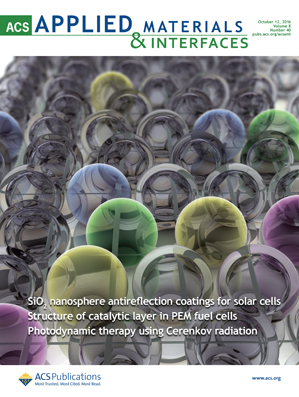 COLLEGE PARK, Md. — Engineers at the University of Maryland demonstrate how the electrical response of a solar cell can be improved, leading to higher efficiency devices, in a new study that was published recently on the cover of ACS Applied Materials and Interfaces.
The team—UMD researchers Dongheon Ha, Jeremy Munday, Chen Gong, and Marina Leite—lay out research that explains how the light absorption by a solar cell, a device that converts sunlight into electricity, can be improved by up to 20 percent by coating it with an array of silicon dioxide or "glass" nanospheres (100 times smaller than the width of a human hair), which allow light to be trapped inside the sphere and leak into the solar cell. Their fabrication process is innovative and inexpensive, and can lead to large-scale manufacturability. The researchers are all associated with UMD's Institute for Research in Electronics and Applied Physics.
"This result shows that we can measure the resonant coupling between the light, the spheres, and the solar cells electrically through an increase in the photocurrent," said Munday. "This resonant coupling is comparable to pushing someone on a swing. If you push at the right rate, you can very efficiently put energy into the system, and the person goes higher. For our system, if you get the frequency of light and the size of the spheres right, the same thing happens. The process is simple and scalable, so it can easily be applied to other types of devices like photodetectors and sensors."
Most antireflection coatings are manufactured by processes that are costly and often involve high-temperature environments, which are unfitting for certain solar cell technologies. The glass nanospheres offer an advantageous nanophotonic antireflection coating because not only are they earth abundant, but they are also stable with respect to extreme temperatures and illumination.
"The process of adding the glass spheres is straightforward, scalable, and effective. In analogy to how a rolling pin is used to flatten dough for pasta, we used a small metal rod to create a uniform layer of spheres on top of the solar cells," says Leite.
Munday and his collaborators are currently exploring how individual spheres contribute to the collective effect. For this work, the researchers are combining different optical techniques to illuminate individual spheres and determine how they affect the solar cell's response in hopes of achieving ultra-high efficiency coatings.
The research paper, "Demonstration of Resonance Coupling in Scalable Dielectric Microresonator Coatings for Photovoltaics," was published online August 24, 2016, and was featured on the October 12, 2016 cover of the journal ACS Applied Materials and Interfaces.
About the A. James Clark School of Engineering
The University of Maryland's A. James Clark School of Engineering is a premier program, ranked among the top 20 in the world. Located just a few miles from Washington, D.C., the Clark School is at the center of a constellation of high-tech companies and federal laboratories, offering students and faculty access to unique professional opportunities.
Our broad spectrum of academic programs, including the world's only accredited undergraduate fire protection engineering program, is complemented by a vibrant entrepreneurial ecosystem, early hands-on educational experiences, and participation in national and international competitions.
The Clark School is leading research advancements in aerospace, bioengineering, robotics, nanotechnology, disaster resilience, energy and sustainability, and cybersecurity. From the universal product code to satellite radio, SMS text messaging to the implantable insulin pump, our students, faculty, and alumni are engineering life-changing innovations for millions. Learn more at www.eng.umd.edu.