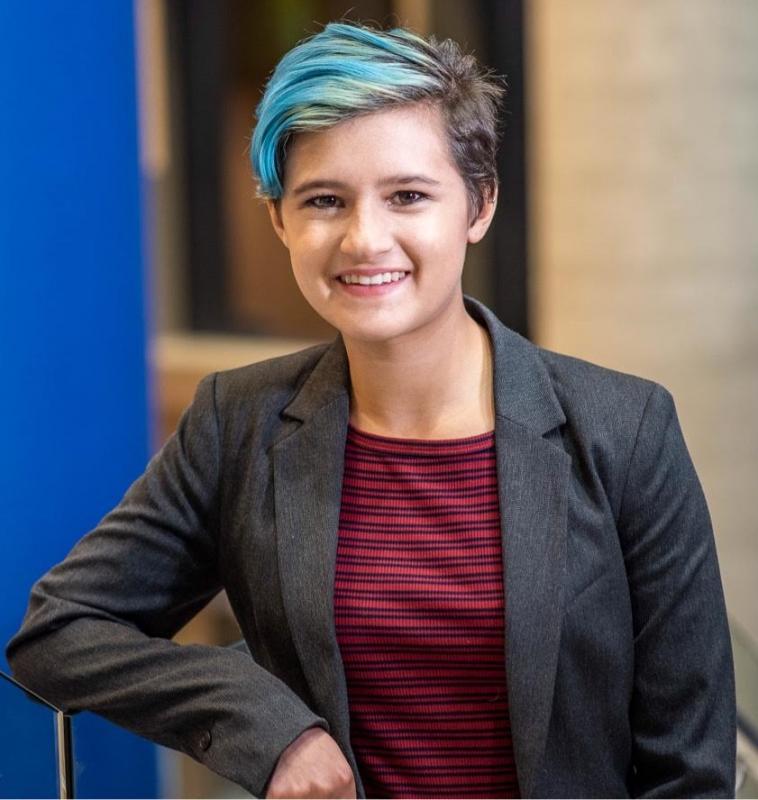 ENEE101 reinforced my confidence in knowing that electrical engineering is the field I should be going into.
Why did you choose to study at the University of Maryland?
I chose to study at the University of Maryland due to being accepted into the Clark Scholars Program and the high ranking of the ECE department. Before becoming a Clark Scholar, I had wanted to go out of state. I grew up in Maryland and had never gotten a chance to live in another area. However, the experiences and opportunities the Clark Scholars Program offers led me to change my mind and want to stay in state.
How did you hear about the Clark Scholars Program?
I heard about the Clark Scholars Program by getting an email saying I was selected to be interviewed for the program. As the program was just getting started at College Park, there was not much information available. I was able to find out more from the Clark Foundation website, the interview, and participating in the program. Now there is more information available, as we have a page on the Clark School website and the other Clark Scholars and I can be contacted to answer questions about the program. I have had a few people find me on social media in order to find out more about the program and my experiences.
Why did you decide to major in Electrical Engineering?
I decided to major in Electrical Engineering after being involved in the Project Lead the Way program at my high school. The program comprised of 5 classes that I believe gave a good introduction to many of the different types of engineering. My favorite class from the program was Digital Electronics, which made me realize my passion for EE and led to my decision to major in it. I remember staying after school to finish breadboarding projects, trying to figure out if I wired the circuit wrong or if I just got a bad logic gate and loving every minute of it.
How has the Clark Scholars Program benefitted you so far?
The Clark Scholars Program has made a college education affordable for me, but also has given me the resources and motivation to succeed throughout my first year as a scholar. I have found the transition from high school to college to be challenging, but the program's faculty was there checking up on us and offering support that helped me to succeed in my freshman year. They also provided a lot of information about UMD and the resources that are available to students that helped me to best utilize everything UMD has to offer.
Have you taken courses in business and have you participated in leadership and service learning programs? If yes, please describe these experiences
I have not taken any courses in business yet, but they are a part of my 4-year plan as they are required for the Clark Scholars program. I have gotten to take part in the Science and Global Change scholars program though, which has service learning opportunities. I have helped remove weeds from the Kenilworth Aquatic Gardens as a part of the program and learned about lily pad cultivation and the history of the park.
Have you committed to focusing on a grand challenge as part of the program?
I have not committed to focusing on a grand challenge yet, though I have taken an interest in the challenge to enhance virtual reality. I've only taken ENES181 so far to get a basic understanding of the NAE grand challenges, but I will be participating in the NAE Grand Challenges Scholars program in future semesters where I will make more of a commitment to a grand challenge.
What are your hobbies and interests on and off campus?
On campus I am involved in Alpha Omega Epsilon, a professional and social engineering sorority. Through this, I have been encouraged to be more involved on campus and have made connections with other students studying engineering.
What do you like most about the ECE Department?
The ECE department's ENEE101 course and also the students involved in the ECE department are what has stood out to me after completing my first year of studies. ENEE101 reinforced my confidence in knowing that electrical engineering is the field I should be going into. Also, my favorite TA's have always been from ENEE courses, as they have all been willing to answer questions and talk about the department. I found they were really interested in making sure everyone had a good understanding of the class material and were passionate about their own studies. Getting to see students so dedicated to electrical engineering made me feel confident I chose the right field and would be surrounded by others who are passionate about the field.
What would you like to do after graduation?
After graduation, I plan to go to graduate school in order to continue my studies or to enter into the workforce. I do not think I would want to stay in academia to do research or become a professor after getting a masters. Right now I am not sure exactly what I want to work on in the future, although I do have an interest in working with augmented reality or developing sensing systems.
Top