Abed Invited to Speak at Texas A & M University at Quatar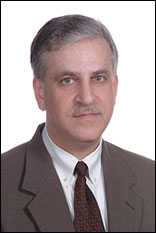 Dr. Eyad H. Abed (ECE/ISR) spoke at Texas A & M University at Quatar on March 19, 2013. His lecture focused on social networks and the rapid information sharing that takes place while using them. Professor Abed emphasized opportunities for cross-disciplinary collaboration among researchers from engineering, the sciences, and social sciences. He stressed the societal and business benefits that could arise from such collective research. The lecture was part of the hosting university's Dean's Distinguished Lecture Series.
Abed has been a member of the Electrical and Computer Engineering department since 1983. He is also the former director of the Institute for Systems Research at the University of Maryland.
Published March 21, 2013